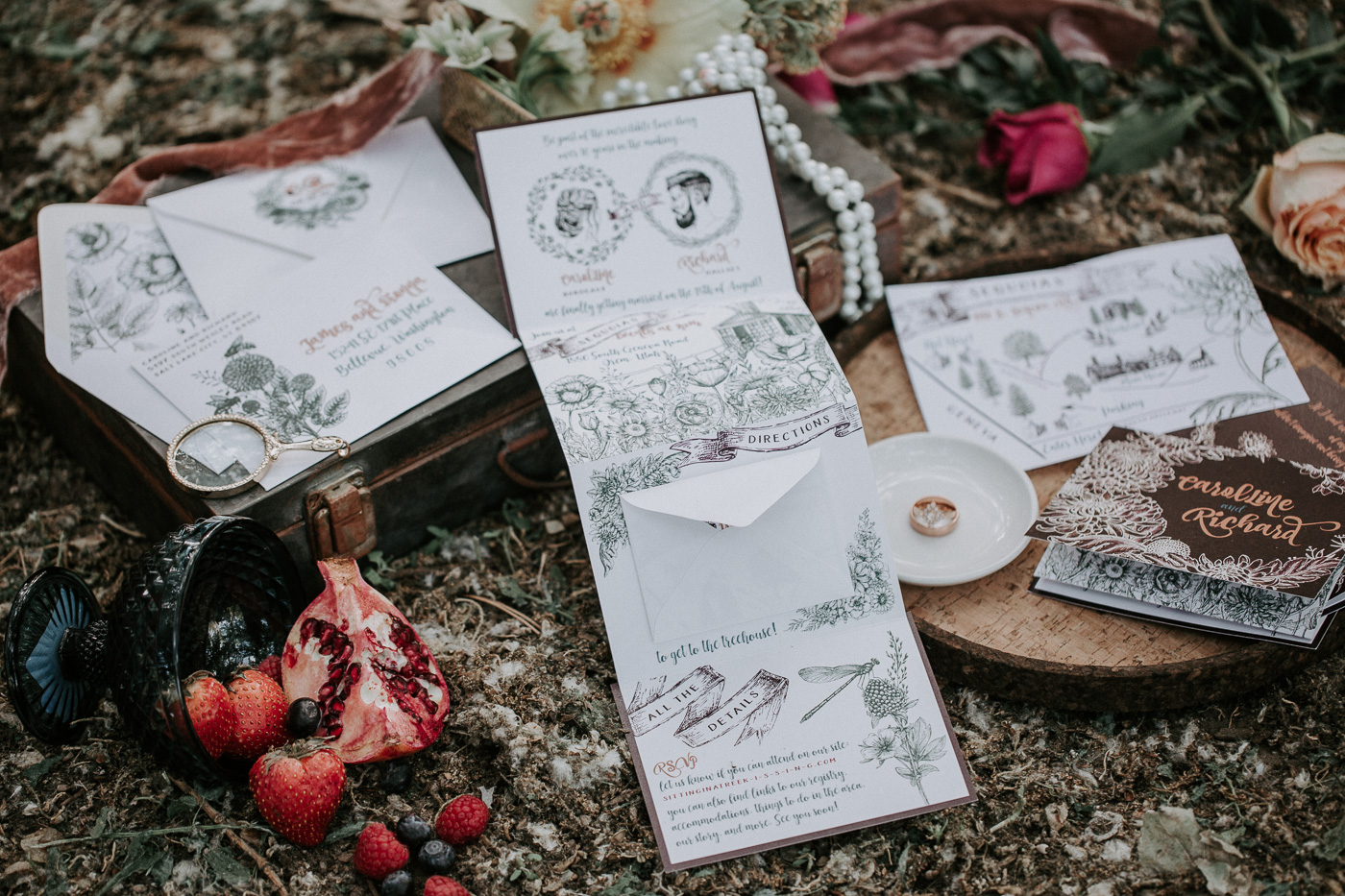 Utah Elopement Inspiration
Inspiration for a Treehouse Elopement came straight from the moment we first toured the venue. The Sequoias Event Center is a magnificent and diverse sanctuary in the middle of a Utah suburb. When you first enter the property, an amazing treehouse can be found hidden in the trees. As soon as we saw it, we immediately knew we wanted to design a playful and romantic elopement session with the treehouse as the backdrop.
When designing a wedding or styled shoot at Sage and Thistle Events, the first thing we do after choosing a location is create a mood board featuring pictures of our inspiration, and a color palette. For the Treehouse Elopement, our colors were drawn from our favorite fruits, blackberries, peaches, and strawberries, and one of our favorite flowers, the thistle. During this design process, we remembered a cute catering trailer run by a duo of sisters, the Ramblin' Rose Café. The Ramblin' Rose Café creates the most beautiful, natural food using locally-sourced products. When we saw their cheese boards and food spreads, we instantly fell in love, and knew we needed to include them in this shoot. Their food and the ambiance they create matched our style and theme perfectly.
When it came to the decorations and tablescape for the Treehouse Elopement, we knew we wanted to add bohemian, vintage, and eclectic elements. We wanted it to look as if childhood sweethearts had collected the decorations and place settings over the course of their lives...just for the day that they were finally going to be married. We wanted each piece to tell a story. To achieve this look, we scoured local stores and our own stash of decor for jewel-toned glass and tapered candles.
We teamed up with some of our favorite vendors to create this romantic and colorful elopement. The florals and greenery were done by Mandy of The Potted Pansy. As we were discussing the details of what we wanted to bring in, we decided to do something unique and create a fruit garland for the table. One of our favorite moments while we were setting up was when Mandy took some branches from the tree that were covered in cotton and incorporated them in the garland on the table. We love this organic use of natural elements from the location itself. The cotton added so much whimsy and nostalgia, and we love that our elopement inspiration shows an alternative way of using florals and greenery.
We also loved the paper suite by Elizabeth from Eccentricity. The invitations were so innovative, as they were an accordion folded insert of the bride and groom's love story featuring an illustration of a treehouse. A map of the venue was folded inside, like a treasure map, and the bride and groom's profiles are depicted like cameos adding another vintage element. The paper suite was expertly arranged by our co-producer of the day, Rebecca from Rebecca M Creative. Rebecca was also instrumental in helping us find vendors and creatives to help us bring our design to life the day of our shoot.
When it came to the dress, we knew we wanted to ask one of our favorite bridal shops, Pritchétt Bridal, for a dress, and we are so glad we did. They provided us with the whimsical, bohemian, covered-in-lace dress of our dreams. Their salon, Salon Pritchétt, created a playful and youthful braided hairstyle for our bride and makeup that enhanced her natural beauty.
The couple's rings came from Wilson's Diamonds, whom we love because they offer such a wide range of different styles. We chose rose gold and copper rings to bring out the warm tones of the design, and because we loved how unique they were.
Our semi-naked wedding cake was created by the talented Amilia from Ami Cakes. She made a delicious apple spice cake that perfectly matched our theme. The caramel drizzles on the cake added elegance, and the combination of fruit and flowers that decorated the cake really pulled every element of the shoot together.
We loved our models, Amanda and Stetson. As a real-life couple about to be married, Amanda and Stetson brought to the production an added element of intimacy and closeness that could only be displayed by a couple who are truly in love. As Sage and Thistle Events prepares for their real wedding later this year, the team found inspiration from their playfulness and relationship that truly added to the overall experience of the day.
Photography was by Breanna of Breanna White Photography. We love how she paid such close attention to the details of the day. She truly captured each tiny element and played off the whimsy of the surroundings. She is the queen of lighting, and this shows through her stunning images.
Our videographer, Corbin Ballard, is so talented. He took the nostalgic and romantic atmosphere of the styled shoot and translated that through the music and mood of his video. We are so glad to have the day captured on film.
This elopement session was inspired by the setting in which every bride can envision their special day. The nuanced touches of bohemian style, delicious food, and strong childhood nostalgia meld together to create a setting unlike any other, yet it relates to every bride. Our Treehouse Elopement embodies the dreams of the boho bride, the foodie, the childhood sweethearts, the adventurous couple, the child in all of us, and the organic, nature-loving soul. It is a great alternative for the couple who wants to be on-trend, but also in a league of their own.
~ Utah Wedding & Event Planners, Sage & Thistle Events