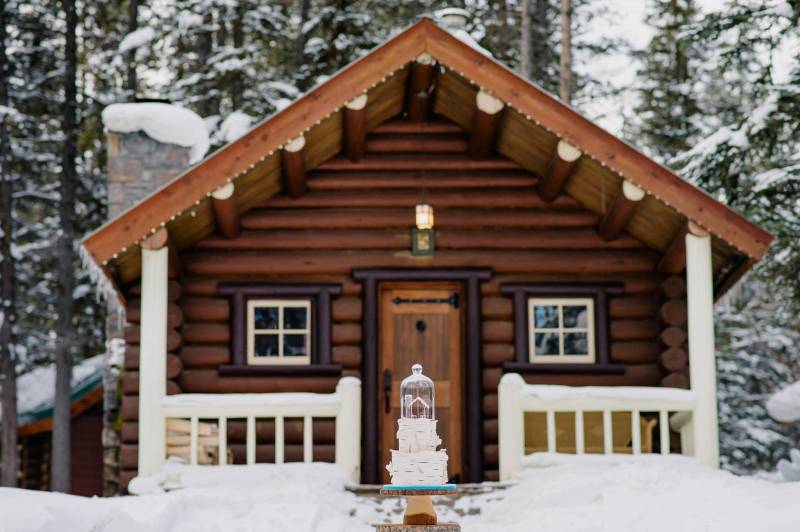 The inspiration behind the shoot from the photographer, Kirstie of Orange Girl Photography: I am in love with winter elopements in Banff National Park. One of my favorite retreats is to Storm Mountain Lodge in Banff National Park. My love for that place inspired me to want to create a winter elopement inspiration shoot.
I also LOVE color and find it especially vibrant against a white winter wonderland. I designed a shoot based upon my love of orange starting with a hand knit cowl from Etsy artist https://www.etsy.com/ca/shop/Yokoo Yokoo because I believe that winter weddings should
feel cozy, colorful and romantic. I worked with a talented group of local creatives to design a shoot that shows that one of the beauties of having an elopement is that you can splurge on having your dream bouquet and a whimsical cake.
For the bouquet, I asked Canmore florist Willow Flower Co. to create a wild child bouquet featuring cedar, dried oranges and orange slices, orange flowers ordered from Holland and orange and white ribbon tails made from ribbon from my personal collection. I wanted to include the couple's dog Scout in our photo shoot so I asked Willow to create a floral dog collar that was in keeping with the bouquet. I had found a vintage ski pin in an antique shop years ago that I always wanted to be incorporated in a boutonniere.
I love vintage clothing and fell in love with an orange and white striped hand sewn 1940's cape that I found on Etsy. To contrast with the pops of orange, I purchased a soft blue tulle skirt from Adorn Boutique in Calgary that stood out beautifully from the snow.
I asked Canmore local baker Kake to create one of her beautiful birch bark cakes and sent her photos of a Storm Mountain Lodge cabin to create for the top of the cake topped with a glass cloche to reference my love of snow globes.
My husband went to art school with the husband and wife team behind Forage Haberdashery and we were thrilled to have them create an orange flannel bow tie for our groom to wear.