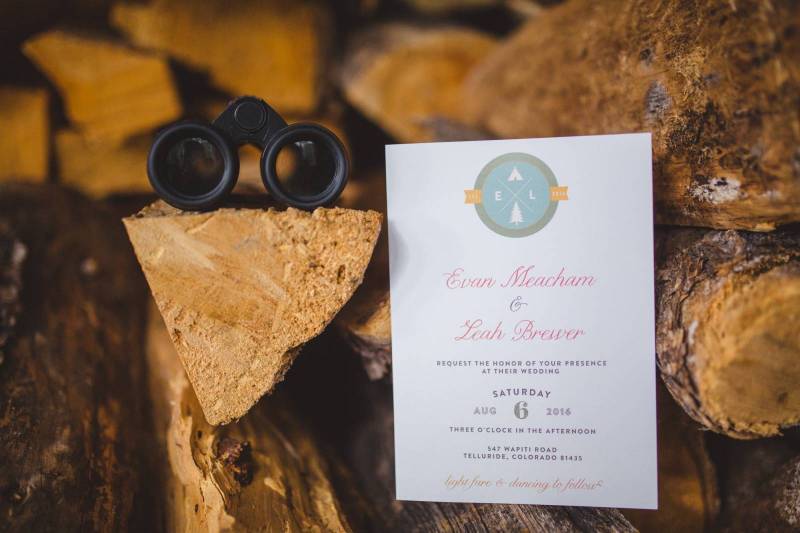 Bride Q & A
How did you get the inspiration for your wedding? How did you implement it? Wes Anderson has always been a huge inspiration in my life and is one of our favorite directors. I knew we would be doing everything ourselves, so as soon as we started planning, I thought a theme would make aesthetic decisions easier to make. I'm a theatre artist, actor and director, so a movie was a natural choice for me. Moonrise Kingdom was the first Wes Anderson movie Evan and I got to see in theaters together and the campsite feel fit perfectly with the Colorado venues we had been looking at. The story of the young lovers is so awkwardly adorable and genuine and perfect for an intimate wedding. The color pallet of the movie was easy to implement in our decor and "costumes", and the Boy Scout theme made our rustic ceremony and reception sites feel like a natural choice.
What was your favorite moment of your wedding? Literally every moment was perfect, but if I had to choose, I'd have to say it was walking up to my handsome, smiling groom in the rain with the live ukulele accompaniment. The weather was a big concern, but in that moment, I realized it couldn't have been more beautiful, perfect, and fitting.
What advice would you give to those planning a wedding now? Try to relax and stay flexible! Planning a wedding can be very stressful and it is key to accept that many things are out of your control. Choose vendors that you trust so that you can let them work their magic without stressing. Many problems will come up and when they do, stay flexible and get creative, because the most important part is that you're marrying the love of your life. An imperfect venue or a little rain won't make that any less magical!
What was your favorite part of planning your wedding? My absolute favorite part was collaborating with all of my amazingly creative artist friends. I am lucky to have many friends that I could trust to take over a creative task, and I would always come back amazed at what they had come up with! The final product was definitely a group effort; we all stuck to the theme and it ended up filled with quirky Moonrise magic!
~ Leah