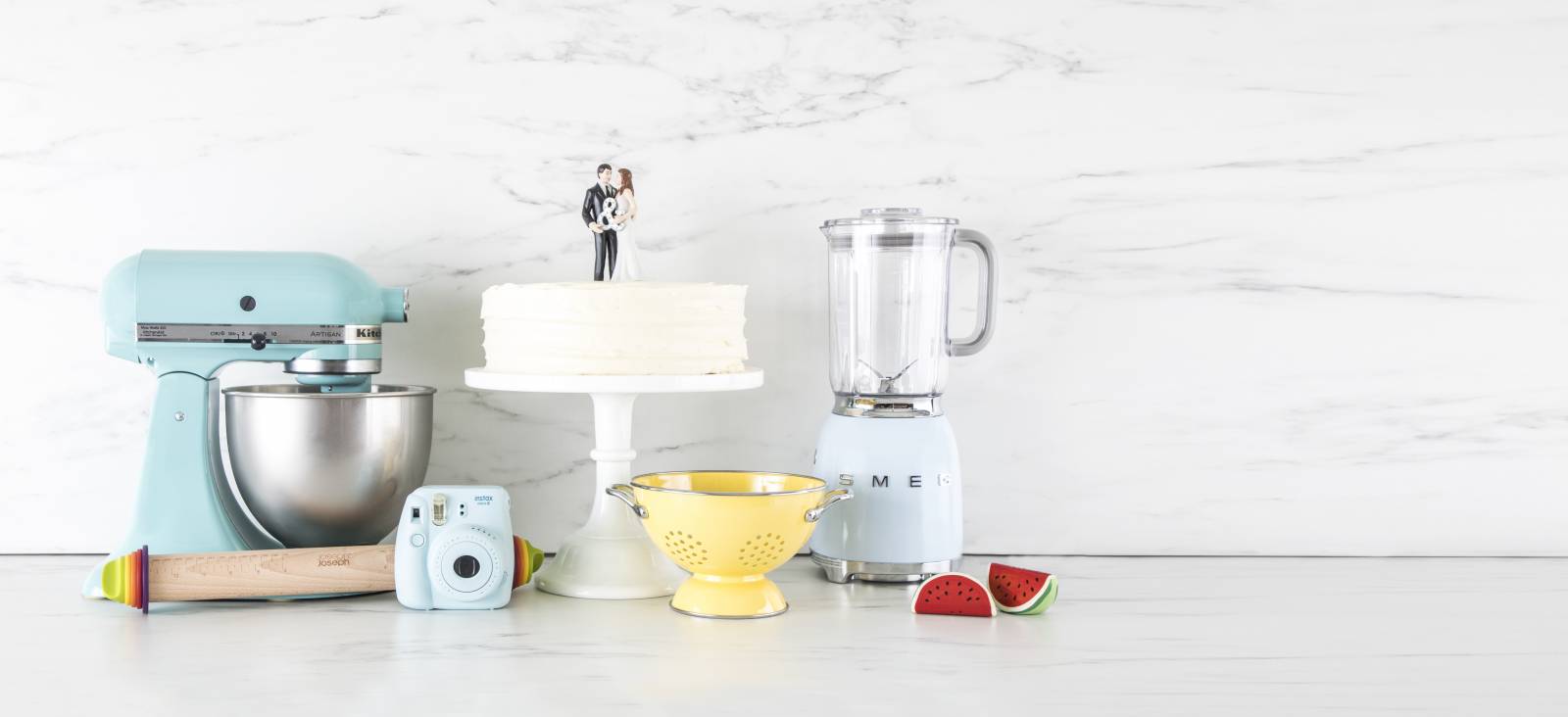 Registry 101: Q&A with Zola
Getting engaged and planning a wedding is one of the most exciting times in your life. Yet, it can be so easy to find yourself stressing over the little things. That's why we team up Zola to answer ten frequently asked questions about registering for gifts. Before you find yourself freaking out over what to register for and when, take a look at what Jennifer Spector, Director of Brand at Zola, has to say.
1. How soon should couples register for gifts?
It's never too early to register for gifts, but it can definitely be too late. Most couples start at least 7 months in advance, but the best rule of thumb is to register before your first events like your engagement party or wedding shower. You can always keep adding gifts to your registry, but you can't prevent your friends and family from going rogue if they can't find your wishlist. You don't want to end up with 8 soap dishes or 10 picture frames.
2. Should a bride and groom register at multiple locations?
Many couples feel like they have to register at multiple locations because they can't find everything that they want at one store. That's the benefit of Zola. It is the easiest place to register because every gift option from sheets and pots and pans to honeymoon funds and even Uber gift cards can be found in one place. It's convenient for your guests because they only have to go to one site to see your entire wishlist, and most guests today do buy wedding gifts online. You also won't have to return gifts to many different stores if you change your mind, which is inevitable!
3. How many gifts should a couple register for?
The minimum is one gift for every guest you are inviting, but add even more than that. You want every friend and family member to have a nice selection so they can stay within budget and also purchase something that feels personal. Nobody wants to have to buy the dish towels that are the last gift on the registry - even though dish towels are very useful! If you're having multiple wedding events like an engagement party or wedding shower, take that into account too, and add even a bit more. Nobody will ever be upset they had a nice selection to choose from.
4. How do we tell guests where we are registered?
Include your registry on your wedding website, and include a link to your wedding website on your save the dates and invitations.
5. What's a gift that most couples don't think to register for?
Last year we surveyed 650+ newlywed couples and found that the biggest registry regret is luggage! Don't forget to register for travel essentials like this.
Beyond luggage, couples often forget that their registry is a great opportunity to upgrade items they already have. Asking for a super nice vacuum might not seem fun, but it's a gift you will really use for a long time.
6. If a couple already lives together, what do you suggest they register for?
Even if you live together you might still have mismatching dinnerware and sheets from ten years ago. Upgrade everyday items like kitchen appliances and towels. You should think about the registry as what do we need right now, what will we need in five years from now, and what will we need in fifteen years from now. Couples today also love registering for experiences like a couples massage or tickets to a sporting event in addition to more traditional home upgrades.
7. Do you have recommendations for price points? Can you register for expensive gifts? If so, how many?
It's best to register for gifts at a variety of price points to give your guests options. You should add a $15 avocado slicer if you really want it, but don't shy away from adding the $400 stand mixer either. For higher ticket items you can always enable group gifting on Zola so guests can contribute whatever amount they're comfortable with without needing to pay for the full amount. This is your chance to get the gifts you really want while being mindful that your guests are all different.
9. Do couples need to manage their registry? (i.e. update it after key events, etc.)
Checking in on your registry should be something fun to do with your partner! You can keep adding new gifts throughout your engagement as you discover new products. Also, after important events during your wedding planning process, it's a good idea to check in and make sure you still have enough options available. There's no such thing as adding too many gifts to your registry.
10. Any other tips or advice for newly engaged couples when it comes to registering for gifts?
My biggest piece of advice to newly engaged couples when registering is to have fun with it. It should be a meaningful activity you two do together. Your registry is a time to show your personality and ask for special gifts that you will cherish during your newlywed years and beyond.
Jennifer couldn't have said it better. Registering is meant to be fun. There are no wrong or right gifts. But, if you're still unsure what to choose, check out Zola's "Starter Collections" to get you going.
To sign-up to register at Zola, click here.