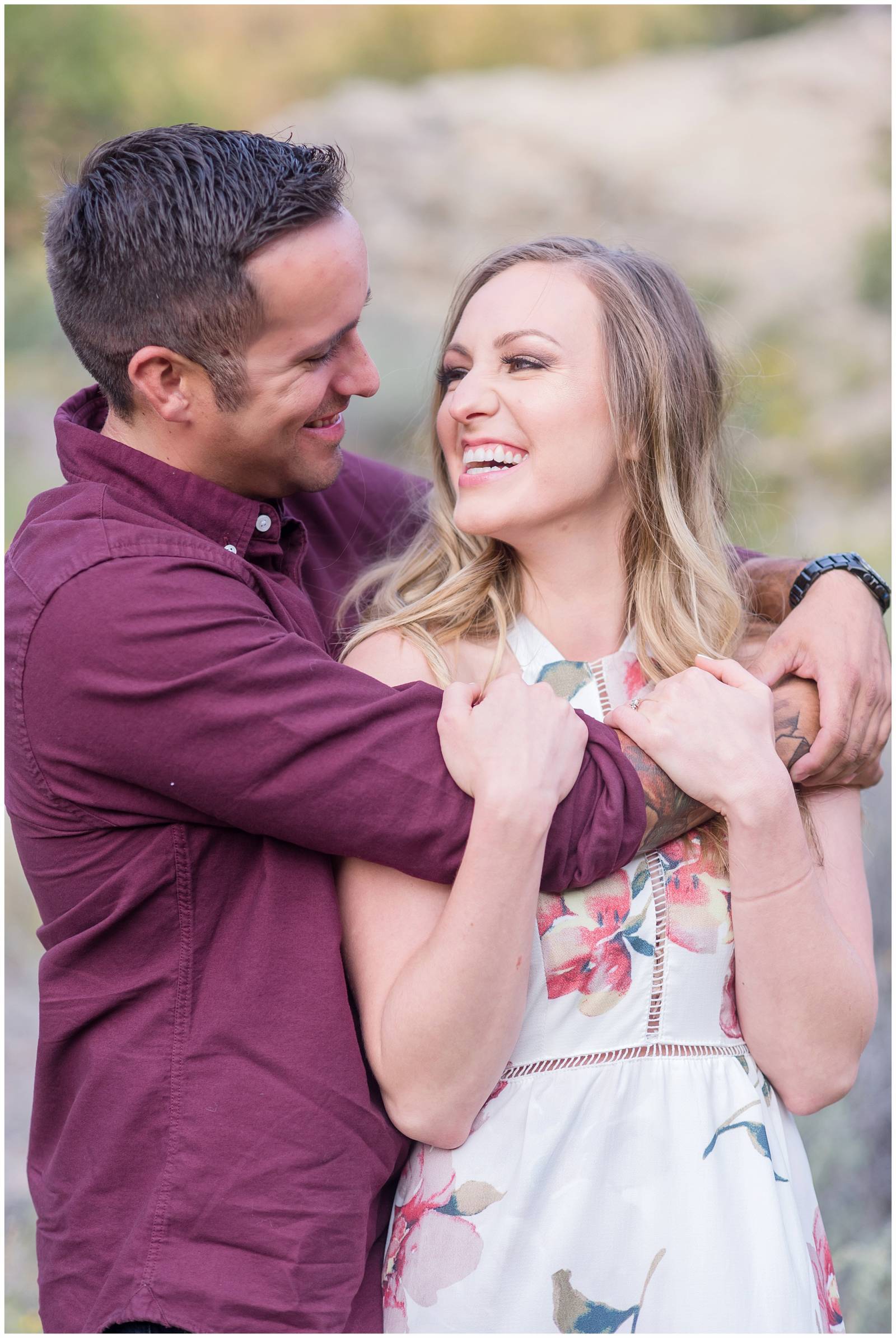 Their Love Story
Now this is a story all about how our lives got twist turned upside down...
Allison knew right away that she loved me! I could tell. I however played it cool.After all the fireworks from our first date I was smitten with love. I knew at that moment i would spend the rest of my life tirelessly chasing her down and claiming her love!
Jimmy thought I was smitten at first sight, little did he know that I would show him a little thing called the friend zone. Yup, the zone for friends. He hung out in said zone for a while..but lemme tell ya the boy is persistent.
I spent exactly 1 hr in the friend zone and then I blew that thing up with a love grenade ! Thus out of the friend zone.
I was BLINDSIDED, the last think I wanted at the time was a boyfriend! Totally ok doing my own thing and was moving for goodness sakes!!! But my gosh being hit left in right with shrapnel made of nothing but sweetness, romance, humor, adventure and good intentions as he proceeded to blast his way out of that friend zone.
In our early stages of courtship one could say we were "pen-pals". Allison was in SE Asia and I was in southern Europe. We communicated daily with small messages. Until we met face to face on April 2, 2016. Again pure fireworks!
To give credit where credit is due, Katie, Jimmy's younger sister whom I've known since high school, sent jimmy my way for travel advice. Anywho he began to message me.. and continued to message me... over and over and over again. Pero was I mad? haha Quite the contrary! Katie later mentioned her full intention was in hopes we would hit it off. Then upon meeting IT WAS ELECTRIC! I mean how could I resist such an incredible human being. We've dated ever since.
How did he propose do you ask?
I knew I wanted to marry Allison fairly early on. The hard part was trying to find the perfect moment to ask her to be my wife, something memorable, meaningful and exciting. Perhaps our next travel adventure in China would make for the perfect opportunity! I was ready, I had a beautiful ring, the blessing of her parents and an upcoming trip of a lifetime! However upon asking her parents at dinner I somehow managed to lose the ring twice, and drop it under the table once, it was at that moment we ( her parents and I) thought taking said ring to China may not be a great idea! Fast forward to our arrival home from China, we were at our home and just got settled in. I remember looking around our home, seeing our pictures, and furniture and all the memories we had made here and it hit me! Our home is our base, our place to keep all of our special moments and display our life together. So I went and grabbed the ring and got down on one knee and asked Allison if she would like to make another memory here. I asked her to be my wife, and if she wanted to do this thing called life together! It is by far my favorite memory we have made in our home.
What do you look most forward to for your wedding day?
Truth be told we look so forward to making our most cherished and important promise to each other before God. Realizing that afterward we get a marriage to live out our commitment to one another. The rest is all a bonus! But who are we kidding, we are beyond excited to party with all of our favorite people who love and support us that day and throughout our marriage thereafter. Good food, flavored margs and yummy cake, what more could we ask for? 4/21/18 couldn't come soon enough!