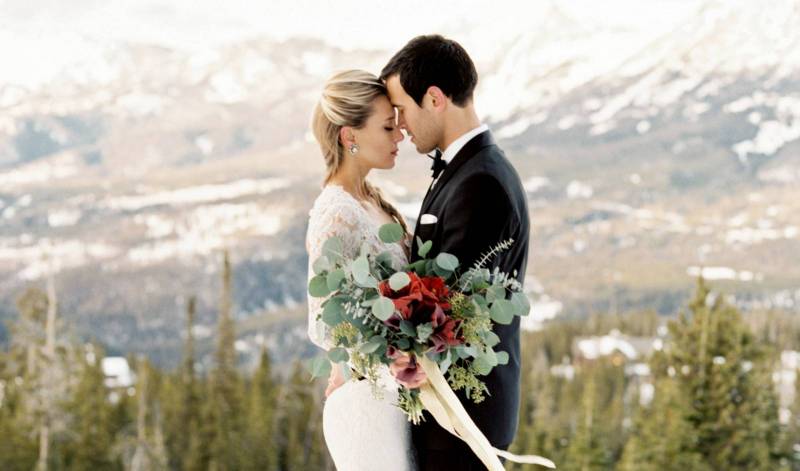 From the super sweet bride, Whitney: James and I still look back in awe of how all of the pieces fell into place with only a two month engagement!!! We knew we wanted a short engagement, but we originally were thinking a warm destination wedding. My ONLY criteria was getting married "at the edge of Glory." We were about to go with a venue in Hawaii but ultimately decided we just couldn't do a venue we hadn't seen in person. We did a couple weekend venue tours includnig visiting the top 10 wedding venues in Southern California. After being disappointed and already a month into our engagement, James painted the picture of a Worboys Winter Wonder Wedding and I was sold! We took a whirlwind trip through the mountains, stumbled upon Moonlight Basin and immediately fell in love. Meanwhile I had been hunting for my pinterest dream dress- a Berta Bridal gown from the December 2014 collection. I found this dress at the one store in Chicago that carries Berta and coincidentally (or divinely rather), the sample size fit me like a glove! Berta dresses usually take up to 8 months since they are all custom made. With a two month engagement, it would have been impossible for me to have. As it turns out, the dress of my dreams that I had pinned long ago WAS a winter wedding dress. I n e v e r could've worn it if we had gone with a warm destination. It was all meant to be!
Our favorite memory is having ALL of our family (and 6 of our closest friends) together. This was a HUGE miracle considering James has family in Thailand and Australia! Days before the wedding, I was in tears because James's grandmother (Khun Yai) was not going to make it since no one could escort her from Bangkok. Khun Yai is the only living grandparent, so it was very important to us for her to be there. As it turns out, James's eldest sister was coming from Australia and her flight was canceled. James realized that if she passed through Bangkok, she could get to the US earlier than she would straight from Oz after the canceled flight, so she graciously volunteered to fly to Bangkok, pick up Khun Yai and bring her to the wedding!
James and I encountered an enormous amount of skepticism when we told family/friends our plan to "elope with family" and have a two month engagement-- especially since we essentially had ONE month after we chose our venue. Looking back on our day makes us smile at what we created in just ONE MONTH. We believe our wedding has been a testimony that a long engagement is not necessary. Anyone can have the wedding of their dreams if they put their faith in the BIG guy in the SKY!