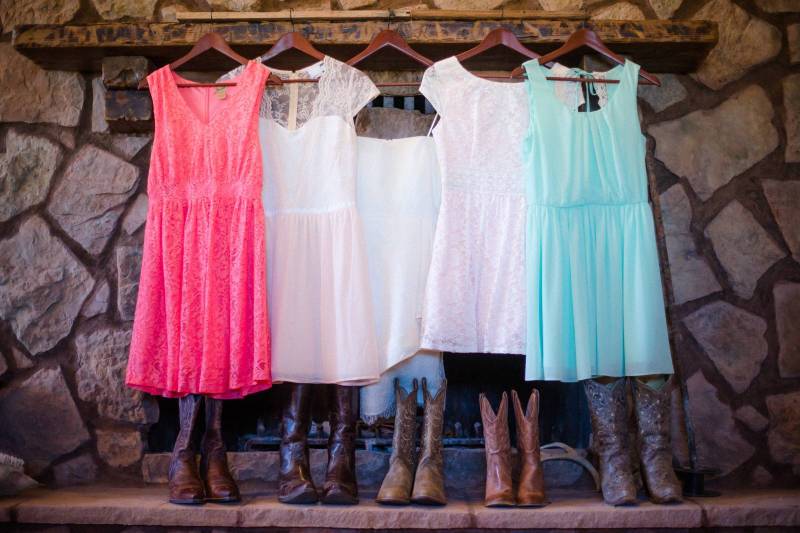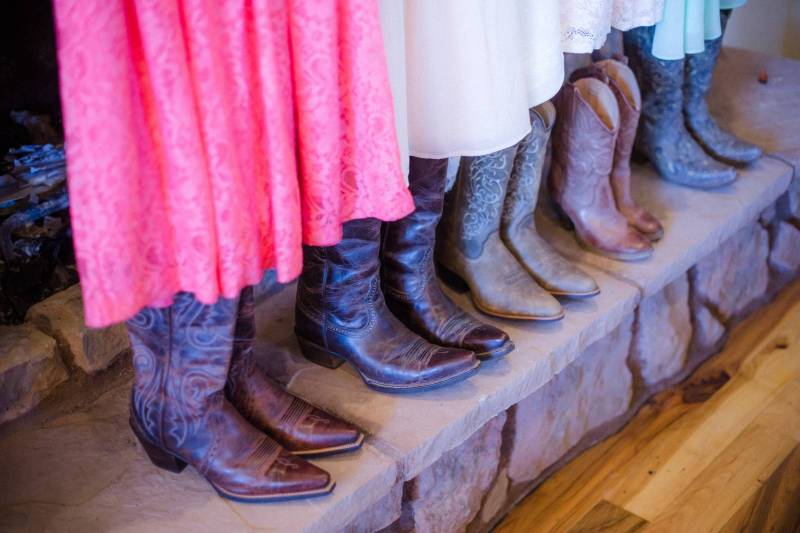 From the bride, Brooke: Shane proposed on March 17th, 2015 on the Big Island of Hawaii in front of Akaka Falls. The scene was beautiful, his words perfect and as an added bonus, my family was able to be there during one of the best days of my life. After the initial shock, I realized that my beautiful engagement ring was my Grandmother's from the 1930's. She wore that ring with love for 70+ years. I have always loved it, not only for its beauty, but for the story behind it.
For the next six months Shane and I, along with our families and friends quickly put together one of the best days I can ever remember. We wanted a fun, laid back country/vintage wedding that was unique to us. I wasn't a girl who planned her wedding as a kid yet I knew one detail has always mattered; the location, I wanted to be married in a barn.
We found our perfect venue, Lone Star Ranch in Elizabeth. The barn is roughly a 125-year-old, 3,500 square foot barn with 25' ceilings and exposed rafters. We filled the barn with vintage inspired decor. I collected glass milk jars for centerpieces, vintage handkerchiefs for our wedding party, old wooden farmhouse window panes from my brother's farm in Wyoming and lots of beautiful floral china and vintage silverware to use as our place settings for our delicious BBQ dinner. My soon to be (handy) husband made beautiful vintage-inspired, weathered center piece table trays, the beer station fully equipped with multiple taps for the kegs of beer and cider form the Wynkoop Brewery and the most beautiful head table I have ever seen!
Family has always been important and that would carry through to our wedding. Our Aunts helped to fill our desert table with the best homemade family treats, my mom baked and decorated our three tier wedding cake as well as over 250 white cupcakes and my sister and new mother-in-law added the frosting. Our desert table was an old banquet hutch from Shane's Great-Grandmother with a beautiful hand crocheted table drape made by my Great-Grandmother.
Friends pitched in too and made one of my favorite decorations; a custom made mason jar chandelier. This surprise gift was lowered from a rope looped around the rafters while we invited all of our guest to help us "light up our journey." It was very symbolic and so fun!
Further symbolism came in our unity ceremony, one of our songs is "All Your Life" by The Band Perry. When we were first dating Shane collected a jar of sand and left it out for me with the note that said "just in case you get the notion..." in regard to the lyrics, "Would you walk to the edge of the ocean, Just to fill my jar with sand? Just in case I get the notion to let it run through my hand." We used that jar and the sand in it for our unity ceremony while standing in front of two old vintage farmhouse doors and a wine barrel as a podium. Prior to the ceremony, our guests were asked to write a word of encouragement on a black river rock and place it in the jar. Then, during the ceremony Shane and I both added the sand back into the jar to fill in the empty space. The point being that the important things were symbolized by the large river rocks, they took up the most space and the smaller details were left for Shane and I to fill in together.
We put a lot of hard work into creating a day that was filled with meaning and incorporated unique touches. We owe so many thanks to all of our friends and family for all the help, not to mention the love and support we received that day and all the days after! We didn't use a wedding planner - 90% of our wedding was DIY and we were able to pull it all off for less than $15,000!
One last note, during the planning process we were lucky to come across Theresa and Jeff at Victoria Marie Jewelers. Because my engagement ring was over 70 years old it needed the diamond pulled and added to another setting. I wanted it to remain the same style and feel and they perfectly restored it right down to the tiny details.