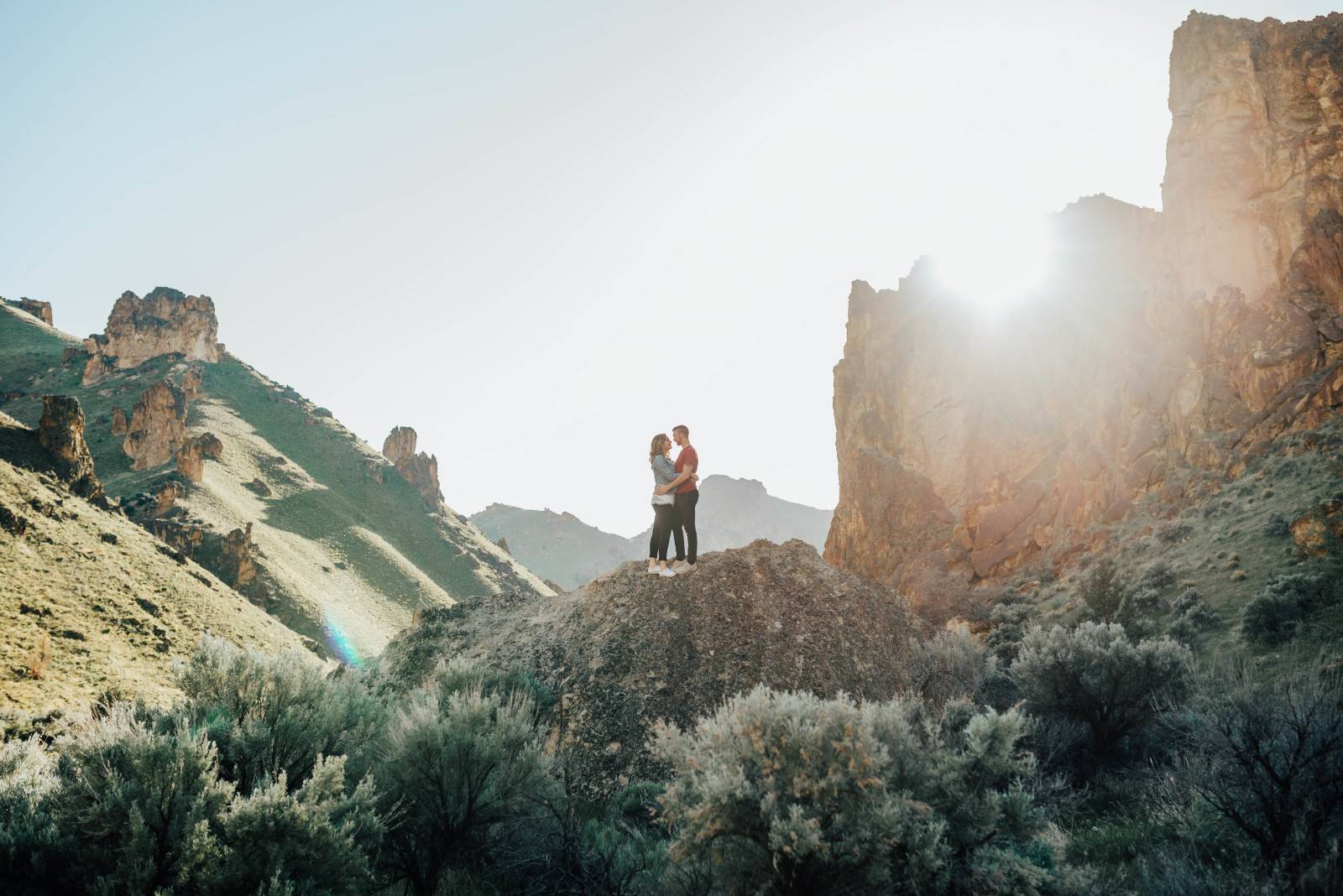 Proposal Story
2017 has easily been the craziest year of my life. In a matter of a month and a half, I got engaged, backpacked through Europe, and started a new job. In the months following, I moved out of my first house, helped my fiancé prepare for countless job interviews (and stood proudly by his side as he recently accepted the one he's been waiting for), and said goodbye to two of my precious childhood pets. Despite all the big life changes and chapters beginning and ending, not a day goes by where I don't find myself distracted by the memories of the day leading up to the moment I said "yes" to the man I've been waiting my entire life for.
It was date night, like any other we'd had before, with the exception that I was to "dress up a little and look nice", which was hard to do considering it was the beginning of January and temperatures rarely got above 20 degrees. I woke up with a migraine, and was a little nervous about going out feeling as crummy as I was. Sean told me I should take some of my migraine medicine and rest a little bit, but that he really wanted to go out. So I sucked it up, got dressed and we went to one of our favorite date spots, The Village in Meridian -- where we had actually gone on our first date. Now, I know Sean pretty well, and I couldn't help but notice he was pretty fidgety and seemed distracted as soon as we stepped foot into the bar. We ordered some fries with our happy hour drinks, and he barely touched them. He made what seemed like too many trips to the bathroom, and was just acting weird. We hit up the arcade and shot basketballs, and he didn't make a single shot. At the time, I didn't think anything of it, just proceeded to brag about my mad baller skills - Classic Courtney. We left Big Al's and on our walk to the theater, Sean said we should take a picture. He pulled out his phone and his hands were shaking so hard that after three or four failed attempts he asked me to take the picture. He blamed the cold and I just laughed at him, but didn't think anything of it. We walked toward the theater, which would take us right past the big beautiful fountains and light show that happened every hour on the hour right in the center of the complex. As we walked into the main courtyard, we stopped, Sean grabbed my hand and said, "you're about to see why I've been acting so weird". As we stood watching the lights change color in the water, my head on his shoulder, I slowly recognized the song that was creeping into my consciousness, "It Was Always You" by Maroon 5, my favorite band. At first I was sure it was just a really crazy coincidence, but when I turned my head to look over at my boyfriend, his eyes lit up as the music grew louder and louder, and finally I turned to the direction that it was coming from.
Hidden just barely outside the foyer of the lobby stood all of my closest and dearest friends and family, eyes watering, smiles on, and in that moment I knew. My brother was standing, boom box overhead, blaring Maroon 5 like a scene from an 80's movie. I locked eyes with one of my best friends who gave me a reassuring head nod like, "yes, Courtney, this is happening. And we're all here to watch." I turned back to face Sean who hadn't taken his hand away from mine as he tried to get out the words I knew he must have rehearsed over and over again in the days leading up to this. Due to my shock and the flood of emotions, I honestly forgot most of the words leading up to the most important ones I'd ever been asked in my entire life: "Courtney Taylor Zeff, will you marry me?"
For the first time ever, I cried happy tears. I hugged each and every one of those people I love so much, and as I laid in bed that night with a beautiful ring on my finger, I tried to comprehend the amount of time, energy, and love that went into planning such a perfect and intimate moment. I was absolutely overwhelmed with the thoughtfulness and care that my sweet fiancé put into making his proposal the greatest memory of my 24-year-old life, and continue to catch myself daydreaming as I think about what an incredible man I get to marry. Thank you Sean for blessing me with such a precious memory to look back on and talk about for years to come. I can't wait to be your wife.
~ Bride, Courtney