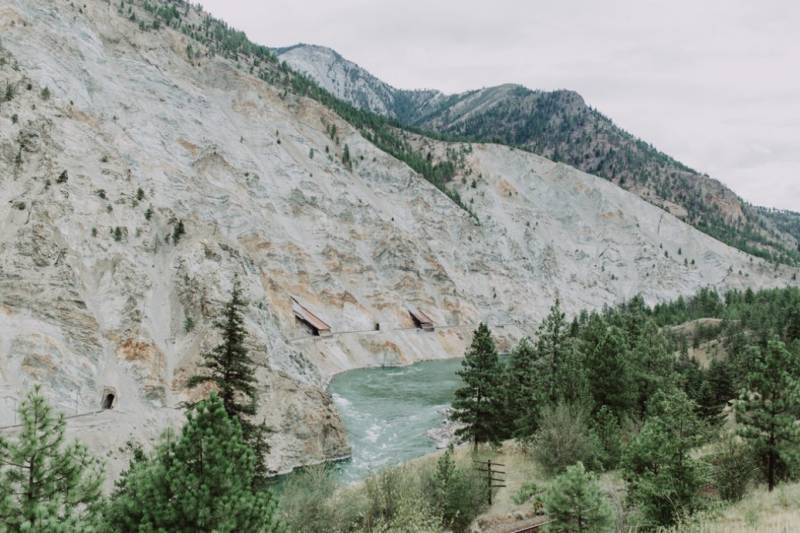 One of the sweetest stories we have ever heard about how a couple met, fell in love and had a merry day, as told by the photographer Michele of Michele Mateus Photography: This love story began in the first days of August 2011 when German born Vanessa was making a whirlwind trip through Canada with her father and half-sister. The initial goal for that day had been to make it all the way from Jasper, Alberta to Kamloops, BC...possibly further if they could keep their eyes open. While flying down the Trans-Canada Highway just before Lytton, BC, they happened to catch a glimpse of the enticing teepees and cabins of the Kumsheen River Rafting Resort. After some pleading from the girls and relenting from Dad, they decided to stop for a couple nights, not knowing how life changing that small detour would become.
It so happened that weekend that Lower Mainland born and raised Steve had also travelled to Lytton that weekend. However, Kumsheen had been their sole destination with well-laid plans of river rafting, camping and barbequing. He and his workmates first met Vanessa's family in the pool, where they politely inserted themselves into the girl's game of water volleyball. Immediately the two groups blended like the famous rivers surrounding Lytton. From the pool it was onto the beach volleyball court, then the restaurant, onto the horseshoe pitch and finally a laughter and jokes around the camp site. Steve and Vanessa closed out the party, talking long into the night and staring up at the millions of stars above them.
As they finally retired to their tents and teepees in the early hours of the morning, Steve worked up the courage to ask for a first kiss. Vanessa quietly declined, assuming the two would never see each other again. However, she reconsidered the next morning and after a short walk to a grassy spot overlooking the train tracks and raging Thompson River, the first kiss was sealed.
That morning Steve left for Vancouver, leaving Vanessa with an email scribbled on a torn up flyer and less than eighteen hours of memories. A few days later Vanessa left BC, on to finish her travels and eventually return to Germany. Over the next months text conversations turned to Skype, Skype turned to visits and visits turned into a first apartment together in Vancouver. Five years later, this brief meeting turned into a pair of "I dos!", right back at Lytton, not far from that spot overlooking the train tracks.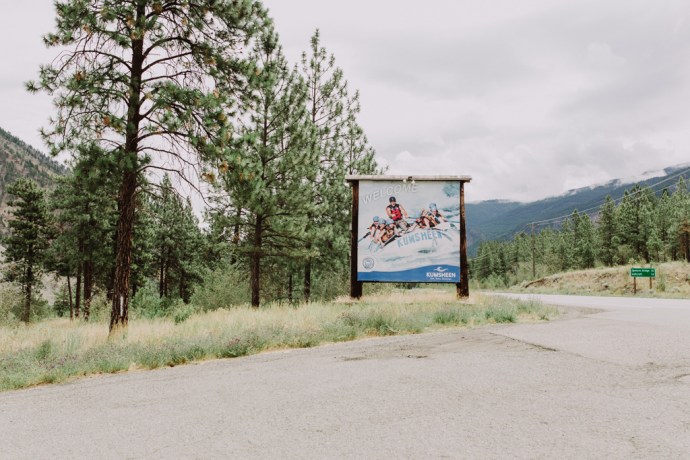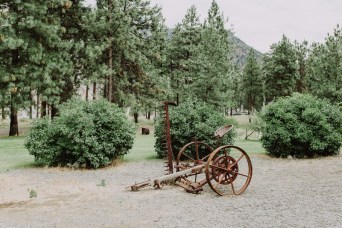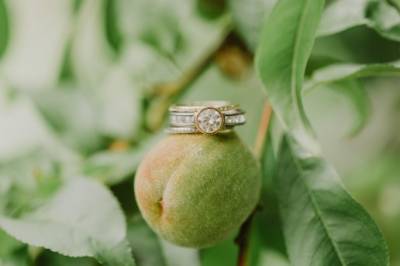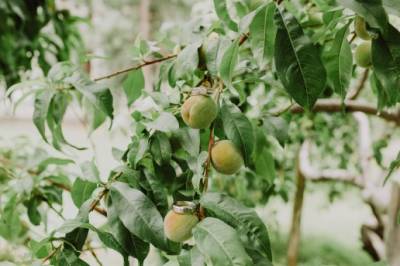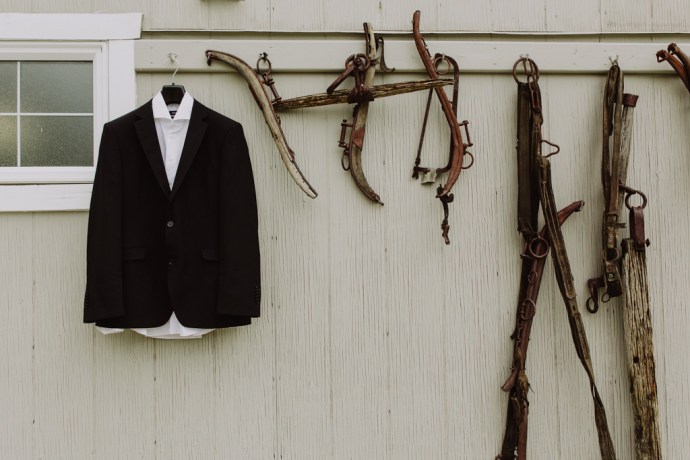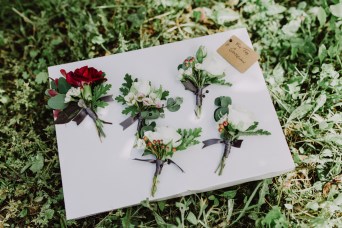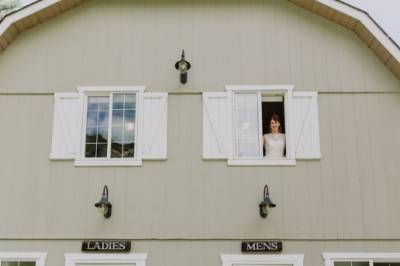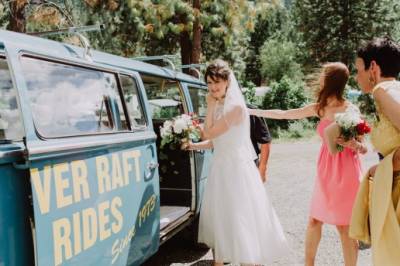 Their Wedding Style:
Steve and Vanessa are a fun and laid back couple, not too worried about the details but rather about enjoying their special day, returning to one of their favourite and most important places and sharing it all with family and friends.
Instead of asking for gifts, they requested their guests join them for a weekend of camping (or shall I say glamping!) and celebrating at the Kumsheen resort, followed by a wild and crazy river rafting trip through the most exciting rapids of the Thompson River, an activity that has been an annual part of their unique love story since they first met. Everyone who came to the wedding had to travel, some from as near as Vancouver and others from as far as Vancouver Island and Germany. Few had ever had an experience like this, making it an extra special and memorable event for all involved.
Vanessa is a German trained dance instructor so needless to say Steve has been brought into the dance world with her. I got to see their joint passion for this at our engagement shoot together and again several times throughout the wedding day as they practiced their first dance (a peppy hustle) wherever they could sneak an opportunity, even if it was in the middle of the bridal portraits.
As she knew Kumsheen had lots of long grass and beautiful natural surroundings that could easily find its way attached to her dress, Vanessa decided to opt for a short and fun dress rather than a traditional long one. Her dress had a lovely vintage feel that paired well with her Grandmother's earrings and other jewelry that had been borrowed from friends.
Although people have been married at Kumsheen before, this is the resorts first summer where they are experimenting with it as an official service. While the archway and flower holders the resort has created are modest and subtle, the natural breathtaking natural surroundings and exceptional support of the resort staff make this an exceptional place to get married. As quoted from their website, they "offer a very unique, rustic venue, that's small enough to be warm and personal and big enough to suit most groups. Our acreage is full of colourful gardens, water features, and dramatic views of White Canyon and the Thompson River, with a light and stress-free atmosphere. Accommodations include RV & tent sites, furnished cozy Canvas Cabins & Anishinabe-style Teepees, while our beautiful indoor-outdoor sunroom style restaurant creates delicious cuisine to indulge your group."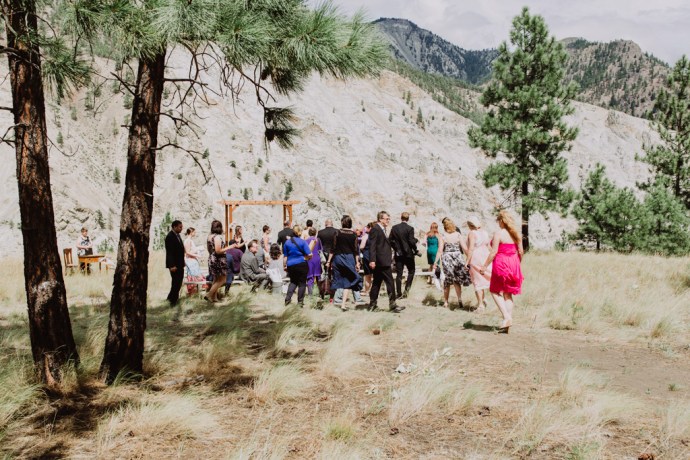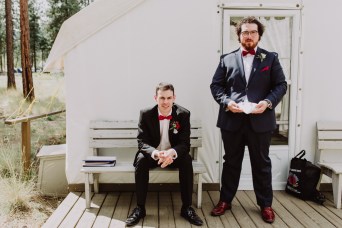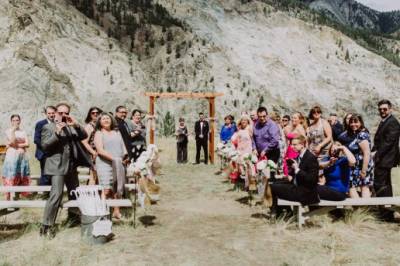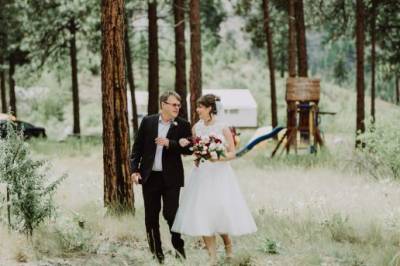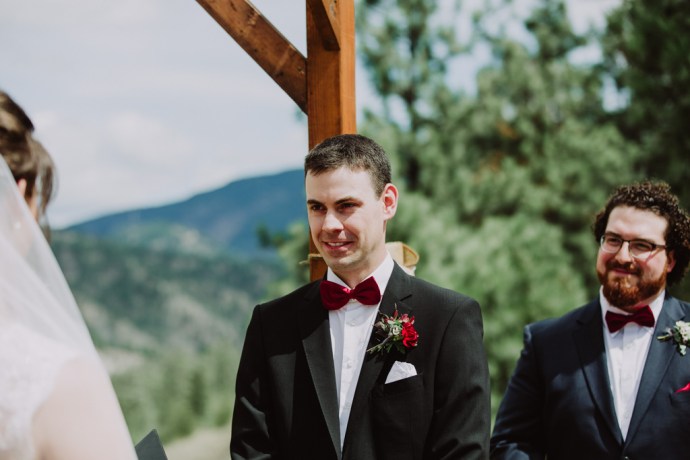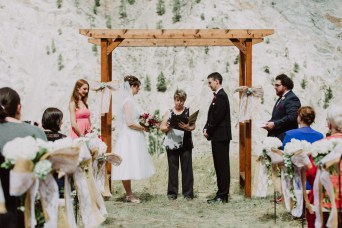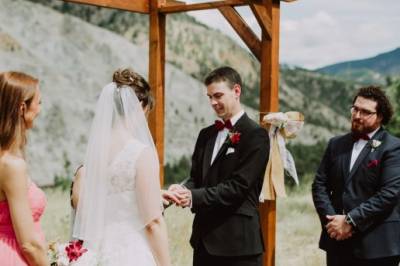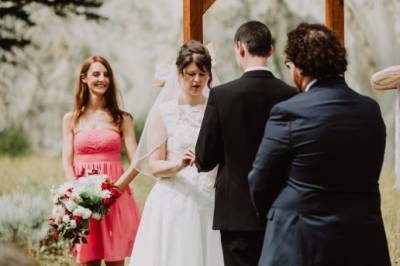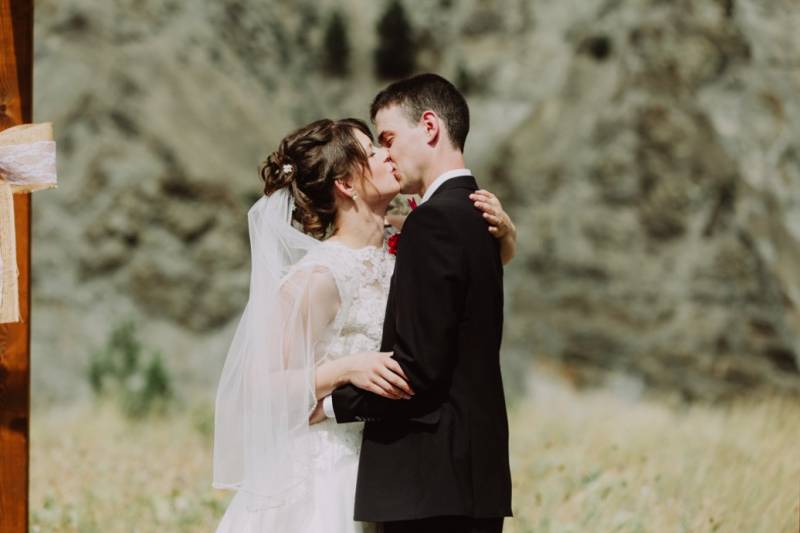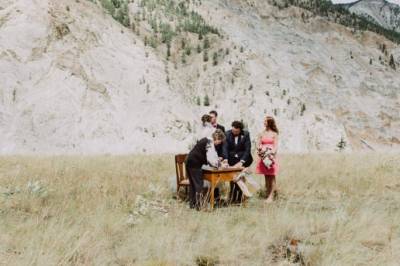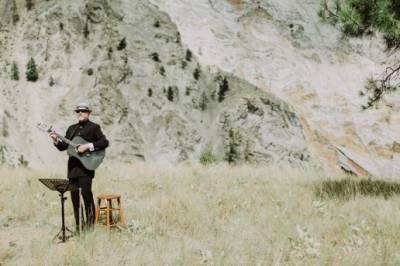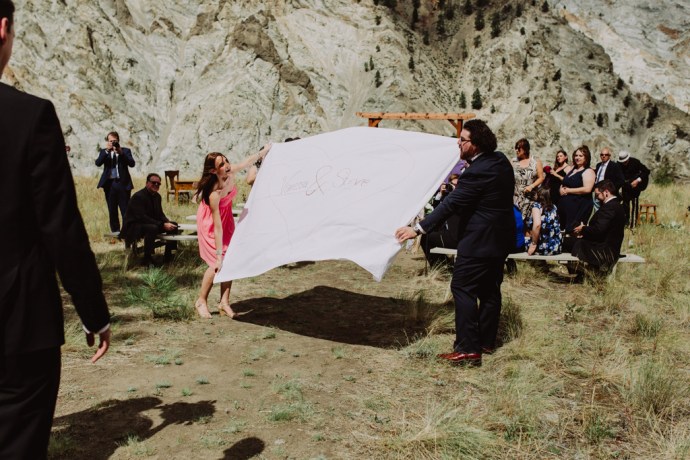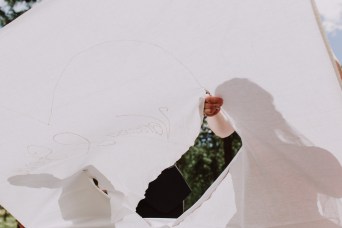 The Wedding
This wedding was a small and intimate, perfectly suited for a beautiful natural setting, with all kinds of fun, like the promise of river rafting the next day. The bride and groom prep was done in the barn, separated by just one floor but still safely out of each other's site. After hair and makeup it was a short walk through the tall grass and brief ride in a vintage VW to the ceremony which was highlighted by stunning mountains and gentle music played a dear friend. After the family formals were done the small bridal party and I snuck off to do their bridal portraits at Nicomen Falls. This is where I received the first sneak peek of their dance as they practiced under this beautiful Willow tree and once again behind the vintage Nicomen House lunch spot that sits on the falls site.
After the dinner the sun started setting and there was a bit of time before the cake cutting. We snuck off for a few more bridal portraits in the perfect evening light and with the stunning backdrop of White Canyon and the Thompson River. Vanessa told me she was worried about all the tall dry grass (I was excited by it when I saw it!), but was so pleased to see how it worked as a beautiful element to their wedding photos.
Their cake was made by Cake Conspiracy Vancouver and suited them to a tee, topped with two smartly dressed paddlers and a small raft ready to set off into the great sea of life together!
Vanessa's Maid of Honor, Annika, had travelled to the wedding from Germany with all kinds of fun additions that were surprises for the couple. It started with a fun post nuptial game where the bride and groom had to race to cut out a heart with their names on it to then walk through it together, Vanessa won this race, but Steve was at a disadvantage as he was given a pair of shoddy scissors! This is a common wedding activity you would see at a German wedding, and brought a fun element to this quirky Canadian meets German wedding. As Vanessa and Steve love tea, Annika also bought along a plain white tea set that the guests could sign to create a long lasting memory of all those that attended. The guest book has a similar personal touch. Lastly, Annika also trained in dance with Vanessa, planned a flash mob dance which spawned right before the cake cutting. Everyone at the reception got up and joined in, as they had been secretly practicing to tutorial videos sent out by Annika a month in advance! Our lovely bride was so excited by this dance and instantly got right into it, hopping along as if she'd known it forever. Steve did his best working through it, too, finally getting it right at the end!
To finish the night off, the couple had a campfire with marshmallow roasting, s'more making and a sing-a-long which even came with a song book prepared by their friends! I have to say the shoe game is that much more fun when being played by a campfire. Lastly there was a nice surprise of fireworks which were supplied by some other guests staying at Kumsheen who were celebrating their 55th birthday.

The next morning there was a wonderful brunch to get everyone ready for their river rafting trip, including Steve's grandmother who is 83 years old, and I am told she had more fun and smiles than anyone.