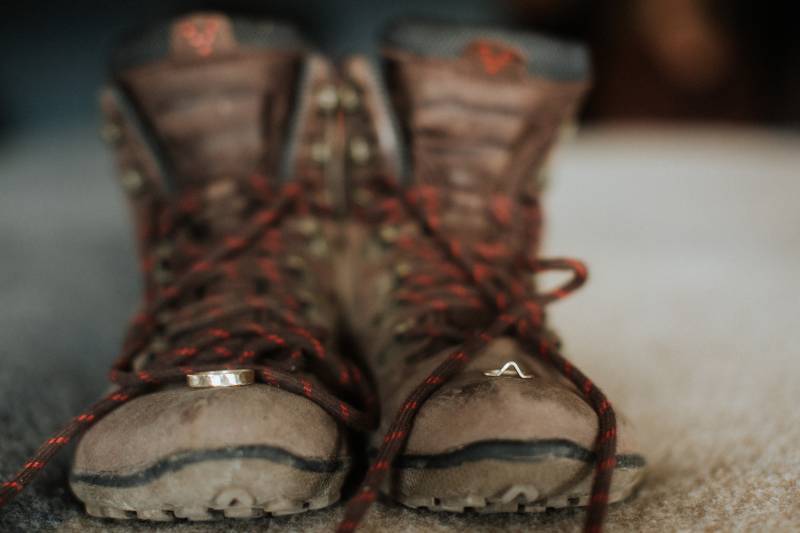 Their Love Story
We actually met in Moose Jaw Saskatchewan playing ultimate frisbee and have been best friends ever since!

We chose to elope because it took all of the complications out of the planning process and the stresses of the day. We didn't want a ceremony where it quickly becomes about what everyone else wants. We wanted to have the entire day to be about our love and relationship and to celebrate however we wanted.

The day went by flawlessly and easy breezy! We had our makeup/hair artist show up in the morning right to our hotel and Katy came not long after and quietly floated around capturing everything. We then drove to schwabacher's landing and took some photos before our officiant came. There was a bit of cloud cover but the temperature was lovely. Around 10am we walked down to the ceremony site and found a family to be our second witness. They had two young girls who were adorable and were so excited to be a part of it. As the ceremony started the sun came out and it was even more of a perfect day. After the ceremony and a few more photos we then went back to our hotel to phone family. I wore my flower crown the entire day and Ethan wore his vest. We had a delicious lunch together at Lotus organic cafe and then spent the afternoon strolling through downtown Jackson which I adore. We had our supper at the Glorietta and they gave us free champagne. We couldn't have asked for a more perfect day to celebrate and we will remember it forever!
~ Bride, Maisie