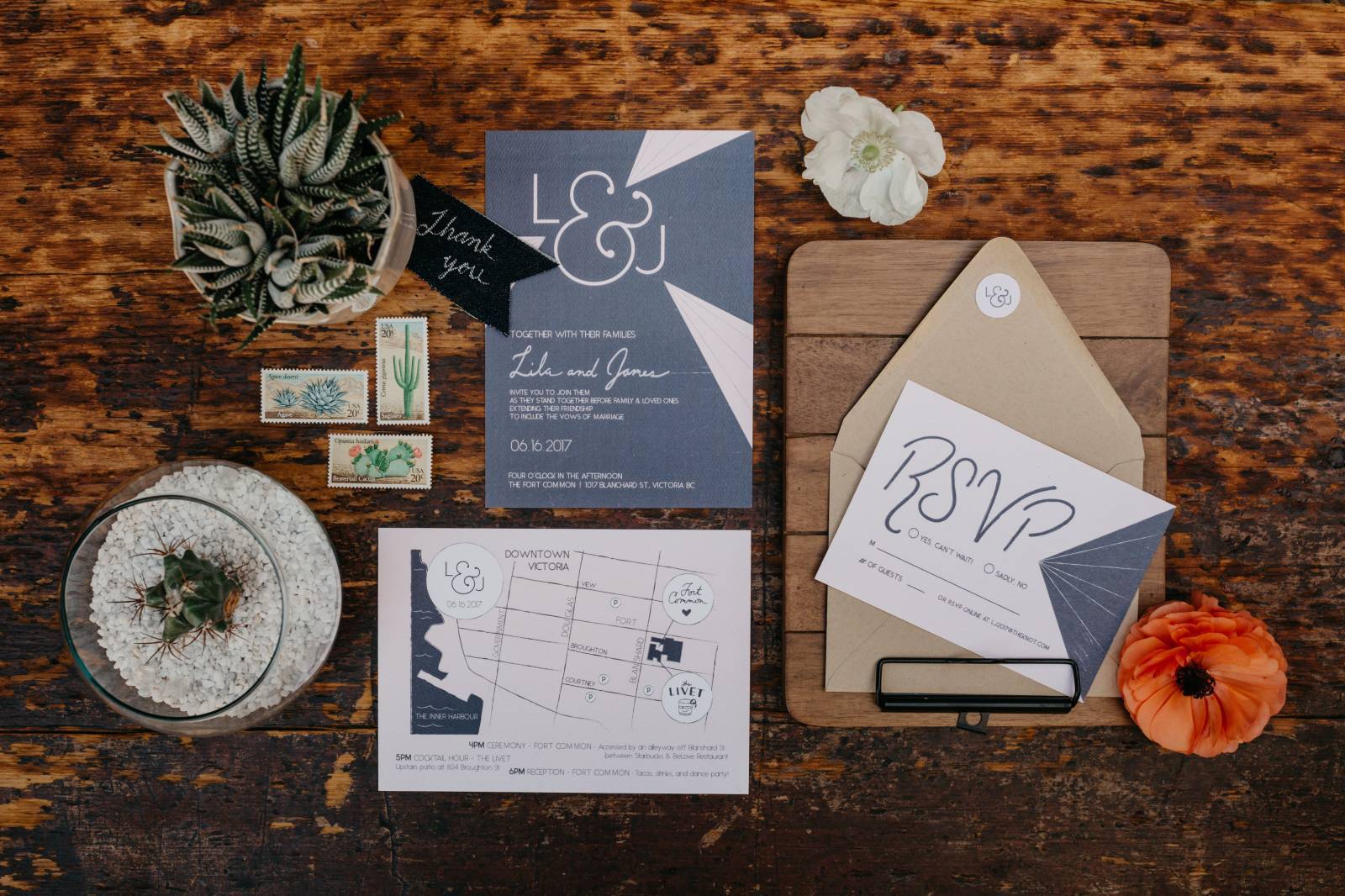 Inspiration behind the shoot...
This collaborative shoot was born out of several vendors' total crush on a new venue in Victoria on Vancouver Island. Here on British Columbia's west coast, forests, beaches, and mountains abound but downtown venues for the modern, industrial loving couple can be significantly harder to track down. So when a small parking lot turned summer courtyard, enclosed by brick walls and hidden down an alleyway in Victoria's downtown core, announced they were opening their doors for weddings and gatherings, a local florist, Tara McHugh, and planner, Emma McCormick, jumped into planning mode right away.
Inspired by the tall white walls and red brick facade, the dark of denim of our favourite shade of indigo jeans became a jumping off point for the shoot's overall design. This indigo blue popped up throughout the shoot in beautiful upholstered plush chairs that sat at the head of the reception table, guest place cards, favor tags, and even custom signage for the taco bar. Contrasting the chambray blue hues, were shades of pinks and butter yellows that, with the potted snake plants and cacti, gave the shoot a decidedly warm weather feel. The pink shades, though minimal, popped into the shoot with the lounge area and handcrafted glass chargers from Turkey. Agreed upon by all as a favourite design detail were the rounded cane back chairs for the harvest table, which seemed to perfectly match the florals of the huge asymmetricaL centrepiece. Not to be outdone by the chairs, the custom oak table was covered with a chambray linen table runner and complimenting knotted indigo napkins!
Originally we had planned to source second hand jeans for the denim for the placecards and taco bar signage, however when we started pricing it out, it was a much better deal to just buy fabric direct from the local fabric store. Sometimes sourcing vintage/used items is more fun, but it definitely isn't always cheaper!
One of the best parts about the new venue was discovering the neighbourhood the Fort Common is located at the heart of. With a lively rooftop cocktail bar above the courtyard and one of Victoria's most popular taco shops backing onto it, sourcing refreshments and snacks was easy. For couples planning their own nuptials, we definitely suggest getting creative with sourcing local vendors. Caterers are a great option and set-up to weddings very well, but often local take-out shops and restaurants are also happy to get involved with weddings if they are close-by. As a bonus, lots of restaurants have liquor licenses that are good within a few hundred feet or a mile within their location so often this can be a great way to bring in bar service.
~ Vancouver Island Wedding Planner, Emma McCormick Creative Planning & Production