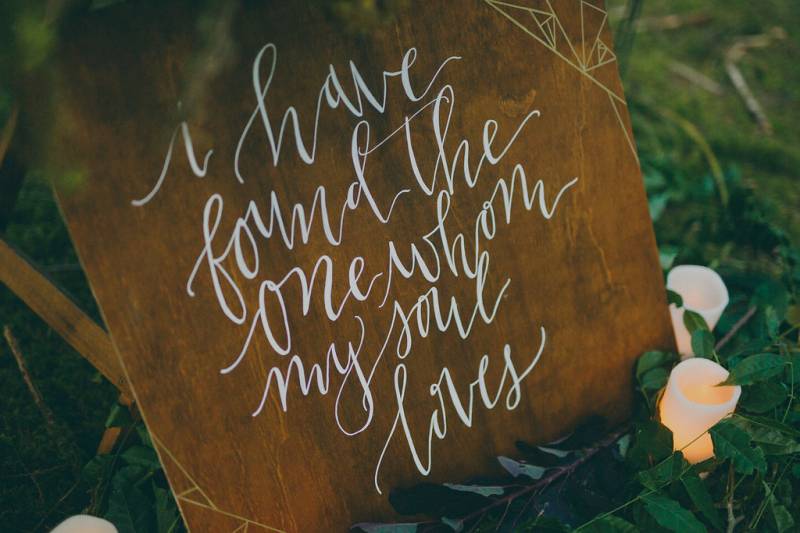 From the photographer, Amanda of Amanda Coldicutt: In the midst of wedding season insanity, I had to slow down for a minute and give myself the opportunity to be creative. I ventured into the draping greenery at Golden Ears Provincial Park in Maple Ridge, BC with some amazing vendors to put together a dark and dreamy stylized shoot.

Though the couple, Chloe & Christopher, are not yet married, they exuded passion and chemistry throughout our entire session. I was actually shocked at how flawlessly it came together. I told Bridal Beginnings Floral & Event design, Cassie Cakes & Caitlin J Makeup to "be creative" and what they put together astounded me.

We borrowed a stunning, local, handmade dress which consisted of a lace top and a full tulle skirt from Pure Magnolia in North Vancouver, BC.

Larissa from Bridal Beginnings brought in locally sourced, lush moss and an organic, full bouquet full of deep vibrant burgundy's and soft pinks to go along with stunning table decor. She also constructed a geometric inspired archway for the couple to sit under.
Caitlin J Makeup + Hair styled our beautiful bride, she chose a rich burgundy tone for her lips that popped and drew the eye forward with a classic hairstyle which suited the romantic side of this shoot of two young loves. Cassie Cakes created a three tier geometric styled wedding cake for the shoot. When placed amongst the trees it became a piece of art. Every aspect of the cake exuded talent. It looked as delicious as it was beautiful.