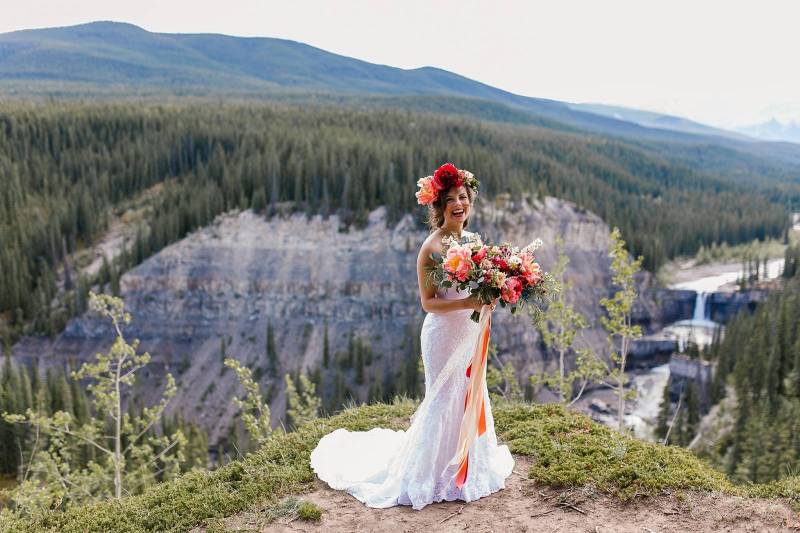 From the photographer, Joy of Joy Breitkreutz Photography: The beautiful woman in the photos just so happens to be a friend of mine who wanted to get some photos of her in her wedding dress before selling it because she was not super pleased with the ones from her wedding. Coincidentally, I was wanting to do a bridal shoot, which is a wonderful thing to offer brides who would like more photos before or after their wedding.
For this shoot, I contacted Travis from Calyx requesting a bouquet that would resemble my business logo and she DID NOT DISAPPOINT! When I went to pick up the flowers for the shoot I was blown away and even shed some tears. This woman is incredibly talented and I really just wanted my photos to do her flowers justice. I then approached Sara, of Beauty by Sara to see if she wanted to cover hair and makeup and she did an amazing job as well. We wanted to keep our bride looking like a natural beauty, because she definitely is and I think she achieved that look.
So my friend Bronte and I, headed to Crescent Falls, an incredible spot in the mountains. We hiked up the mountain and had quite the adventure in the woods. The cliff we found was incredible and so was the luscious mossy floor in the forest. We also took some photos at the top of the raging waterfall. It was such a great time to show Bronte what a beautiful woman she is.