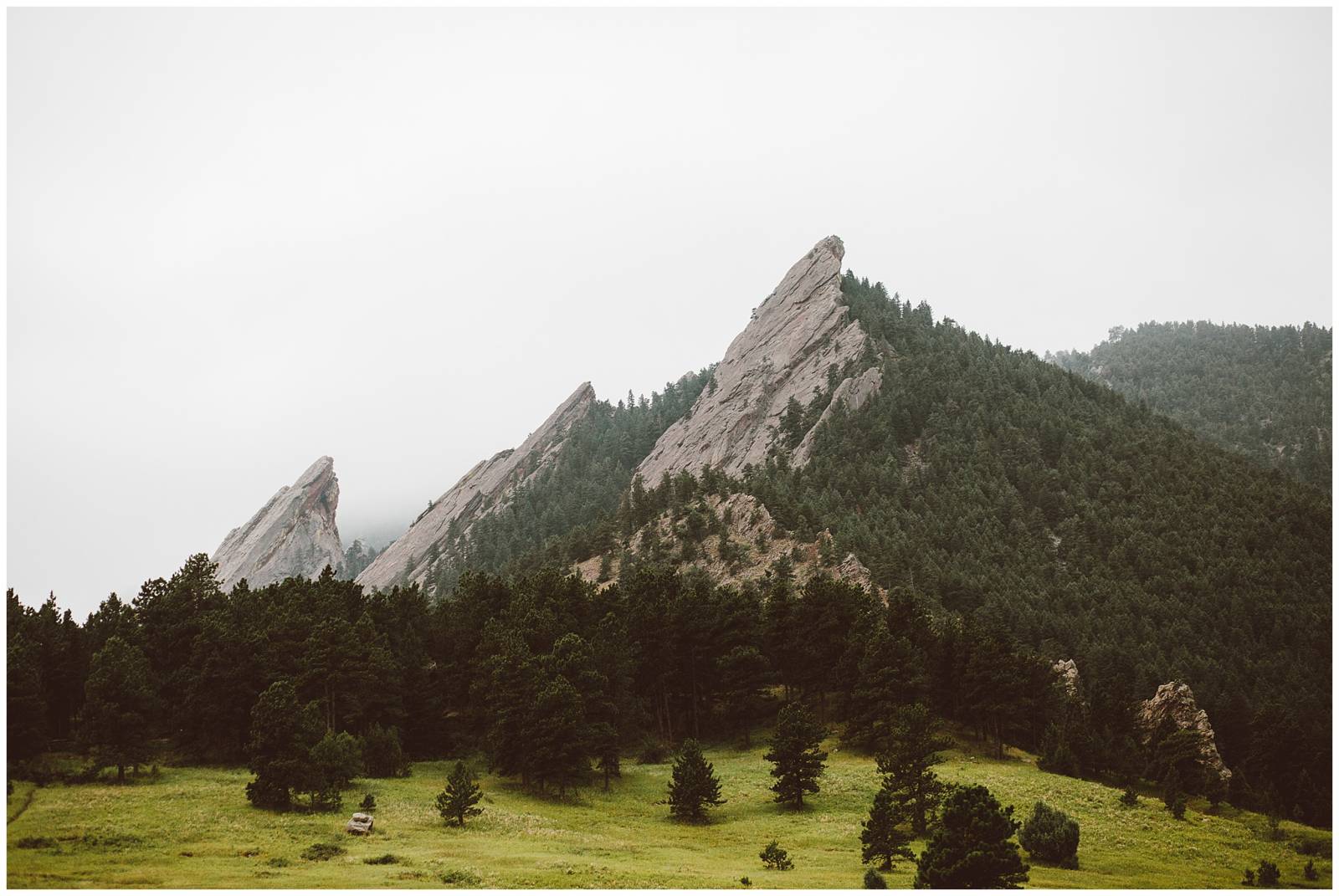 Love Story
Chelsea and Brandon chose to elope in the quiet morning among the Colorado Rockies at Brainard Lake. With an early morning first-look amongst the mist at Chautauqua Park; their favorite area to hike next to their home. Alongside the early-morning fishermen and a few moose ways off, they stood at the edge of the lake and shared their heartfelt and sincere vows through tears. Chelsea shared with Brandon, "Years ago, I wrote down a quote that struck me at the time. It was 'Commitment doesn't mean commitment to another person, but rather, a shared commitment to something greater than oneself.' I quickly jotted it down on a notebook with a four-leaf clover on the front and it sat in my drawer collecting dust never to be written in again. Roughly six months after we started dating we had this crazy idea to leave our places behind and get an apartment together. Name-on-lease-together kind of stuff, and that was insane. I knew I wanted it but I was legitimately scared. I dug deep in my gut looking for a cardinal direction and there was no answer. What the hell was I doing. I went home, opened a box that was mysteriously in my way, and on the top, was a four-leaf clover notebook with one quote inside. The universe was telling me to go for it."
These two met in Colorado and have loved taking their big fluffy puppy, Bozeman, up to Brainard Lake for family walks. The thought of 100 pairs of eyes on them for a wedding as they shared such intimate vows was an uneasy thought. With the hope of their day being full of carefree moments, a non-restricted timeline, and somewhere in the mountains was what mattered most. Running off together to elope was the obvious thing to do. Chelsea really wanted to focus on Brandon and what he meant to her, and not worry if their guests were too hot or cold, had enough to drink, or need to sit down. Eloping allowed for them to give all their attention to each other.
Chelsea chose a perfect dress that allowed light hiking and would catch beautifully in the soft alpine breeze. She paired it with her Red Wing hiking boots that were gifted to her by Brandon when he proposed to her. It fits a Colorado girl just right! Brandon wore a slim, tailored suit in a classic navy color. His textured pink tie was a nod to the wildflowers that brush across the mountainsides.
Despite the fishermen, boats, wildlife, and their photographer present, their vows where the highlight because, "when you hear the other person express their unrestricted love for you, the rest of the world falls away. For those 15 minutes, no one existed but each other, and we'll never forget that feeling." Brandon responded in kind with his own vow, "I know this is my moment to pour my heart out to you, but I know I'll never be able to express how deep my love is for you in words. So I promise I will spend the rest of our lives showing you." After the vows, they brought out their favorite local Colorado beers, wiped their tears away, and gave themselves a well-deserved "cheers"! They followed that up with an adventure around the lake area visiting a waterfall, and jumping into the lake because that's what you can do when you elope!
~ Boulder Wedding Photographer, Red Aspen Photography