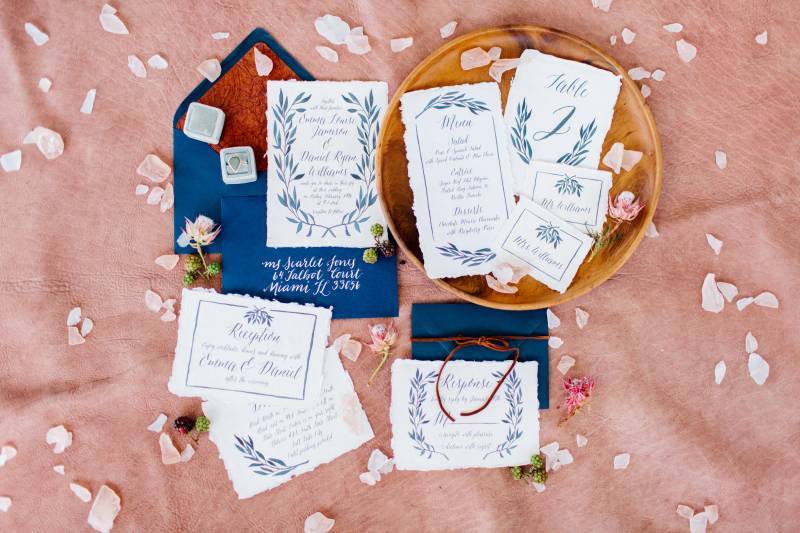 Inspiration
My main inspiration was to pursue elevated minimalistic ambiance by focusing more on textures vs. colors. The rawness of textures and mixed materials vs. overall colors (leather, handmade paper, calligraphy). Blanc was THE perfect venue based on soo many factors, but mainly because blanc is simple, elegant and modern.. and GORGEOUS!
I was really inspired by the simple clean crisp look of ghost chairs and how they are so impactful yet effortless! It was really fun pairing that clean look with the soft bench and the bold wooden chairs - the textures of the raw wood table with the turmeric color velvet runners is TO DIE FOR. The taper candles and the salt candles were the perfect accents and the florals really couldn't have been more on point with the overall vision - they tied everything together. The invitation suite was impeccable - HAND MADE paper and calligraphy - so delicate and simply unforgettable. Everything was impeccable, and intentional.
The flatware was so fun to play with when sourcing - it is simple elegance 100% and everything just fell into place for the tablescape- the slate chargers with the sleek china plates on top created the perfect balance of modern sleek.
The dress was chosen for its minimalist WOW factor - I fell in love with it instantly when we were sourcing for the shoot. The hair and makeup went for the same approach too. The dress (and hair/mua) was SO modern yet with that bow in the back it took the style to modern SLEEK...classic, timeless, intentional.
~ Denver Wedding Planner, Taylor Curley of The Simply Elegant Group