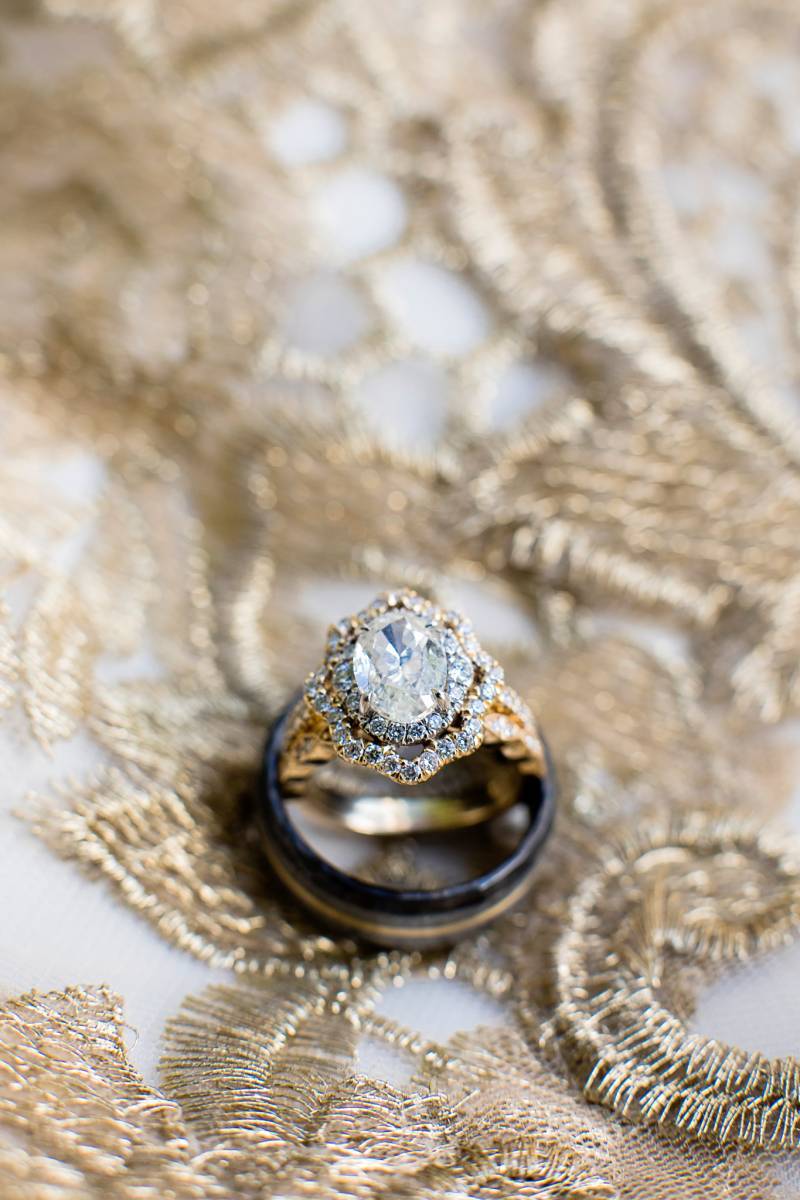 Wedding Day
Wedding theme and colours (explain the reason behind the decision)s: The colors were gold and black because they were the colors Nick and I wore. Nick designed the engagement ring completely on his own and had it made in a gold setting. I selected my dress because it complemented the antique style and uniqueness of the ring so well. Because it isn't a typical white wedding dress and it makes such a statement, it set the wedding color. Actually, because it was an elopement- style wedding with no bridal party and was held outdoors, we wanted everything we selected to complement the gorgeous natural setting. I think it worked because the first statement everyone seems to make when they see our wedding photos is "Wow, what a gorgeous setting!" followed by a comment about how pretty and unusual my dress is.
Your top 3 best moments and why:
The first look. There was so much anticipation leading up to that moment. As I walked up to Nick, my heart was beating out of my chest. I was so anxious to see him. I had spent the night before finishing up my vows and was concerned about them being perfect. I spent the entire day concerning myself with every detail of my appearance because I wanted to look perfect for him. I wanted our wedding to be everything he had always pictured in his mind.
I could hear him talking and laughing with Doug, Kris, and Kim (videographers and photographer) as I approached him. I didn't know how he would react when he saw me. He had never seen me in that dress before. The look on his face when he turned around and saw me was an expression I've never seen him make before. I instantly felt calm. I was in his arms again and I would be from that point forward. None of the things I worried about leading up to that point mattered anymore. There was so much joy in that moment and you can see that in the photos. It was so romantic, but also a lot of fun. That's what I love about us. We have so much fun together and never take ourselves too seriously.
Hearing the bagpipe music playing when Nick walked out into the meadow and the sound of our guests cheering when he arrived. It made my heart so happy to hear that. Immediately following that, my dad came to collect me and we had an emotional embrace (my dad does not get emotional!). It was a moment I'll never forget.
The exchange of our vows. We wrote them ourselves and didn't share them with each other ahead of time. His words were so deeply heartfelt and contained just a dash of lighthearted humor - just like him. The look on his face when I read mine to him was something I'll never forget. Afterwards, we realized that most everyone was crying, and each guest recalled specific portions of our vows and discussed them over dinner. It's so special to us that everyone in attendance was so immersed in the moment with us.
Wedding song, explain choice for song: We selected a bagpiper because we had visited Scotland together and loved it. We actually considered Scotland as our wedding location. We selected Highland Cathedral. We both heard it together when searching bagpipe music to play at the ceremony and we looked at each other and knew it was the right song. I tear up every time I hear it. It feels so grand and upbeat, yet soulful. It sounded amazing reverberating off the mountains surrounding us.
Your top 3 favourite wedding details (cake, flowers, dress, band, etc.) and why: 1) The dress. I loved it. It was so unique and I felt great in it. Every other wedding dress I tried on made me feel like a little girl. I'm petite (5'2), so wedding dresses seem to swallow me up making me look too young. This one felt very mature and classic, and it enhanced my pale skin instead of making me feel like I had to have a golden tan to look good in it. I had planned to go with something very simple, but I ended up with a show stopper instead, and I wouldn't have done it any differently. It was tight and it wasn't ideal for navigating the rocky terrain, but I did it in heels and didn't fall!
2) The bagpiper. It added so much to the ceremony. The sound filled the air with a majesty that matched the incredible landscape. It reminded me of our time together in Scotland which was a very special trip for us.
3) The calla lilies we placed on an empty chair for my mom who passed away when I was a teenager. My dad carried them down the aisle. It resulted in a very powerful photo that I will always cherish. We all felt her presence that day.
~ Victoria & Nick