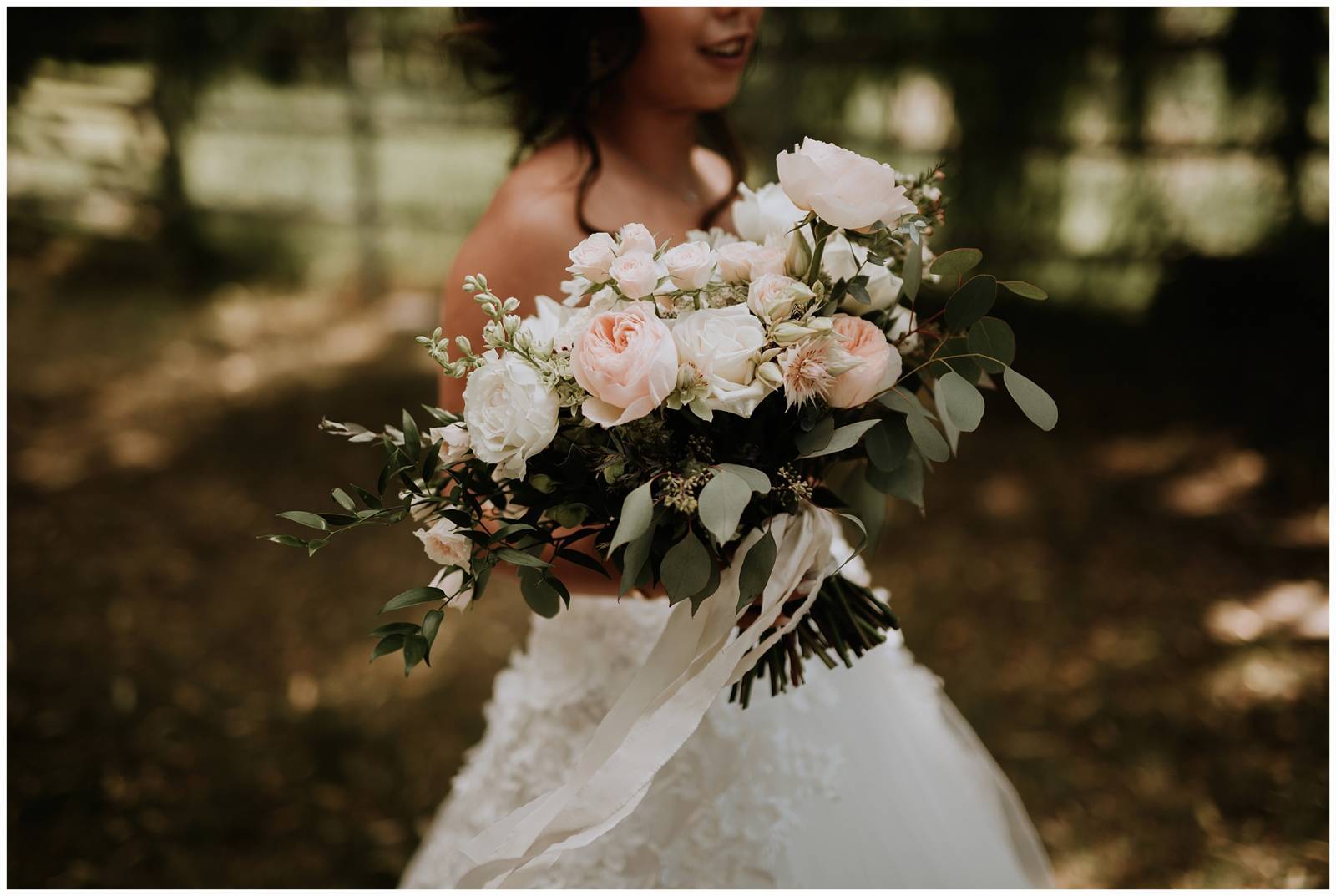 A little Q & A with the bride and groom:
Tell us about your wedding! What was the inspiration behind your day? Did you have a specific theme, style or color palette?
Did you incorporate any cultural or religious traditions in any part of your day?The inspiration behind our big day was natural beauty with a little bit of whimsical in it. Our color palette actually changed a few times, but we finalized with peach, grey, navy and gold accent as our color story. We didn't do any cultural tradition on our big day, but my dad did give his speech in Chinese and I translated for him which I thought it was very special to my heart.
Let's talk wedding decor. How did you decorate your space for the ceremony and the reception? Was any part of the decor DIY?
Well, we couldn't have decorated our space without the help of our wedding planner, Shawna. I remembered we talked on the phone a couple times regarding the décor, as I was very indecisive! She helped us to create a really beautiful wedding that was a blend of all the ideas we had, she was intuitive and came up with fabulous creative solutions to what we we couldn't even describe ourselves!
What were the florals like in your wedding? Did you use flowers in any of your design elements like the bridal bouquets, centerpieces or ceremony backdrop? Did they play an important part in the overall style of your wedding?
The style for our floral design was romantic organic natural garden inspired incorporating full bloom florals in ivory, soft blush and soft peach and full lush greenery. We used white wax flower blooms in my bridesmaid hair up-dos. For the ceremony, our wedding planner brought in drapery with green vines that crept up the drapery under the arch where we got married. We also added some greenery on the aisle of the ceremony chairs for guests. At the reception, we had greenery garland on our sweetheart able; each round guest table had its own table arrangement of similar flowers to my bouquet. We added lavender sprigs on each place setting as well to incorporate a bit of Okanagan. I think the florals really played an important part in our wedding because they add extra colour, texture and a "feel good" feeling to our special day.
Did you personalize the day in any way (food trucks, guest entertainment etc.)? What were some of your favourite parts of your wedding?
Our favourite part of the wedding was having all of our loved ones there. Most of our friends and families had to travel from Alberta and some from British Columbia, most importantly my childhood friends and my parents travelled all the way from China just to attend the wedding.
Let's talk fashion. How did you choose your wedding day look? How did the groom? Describe both looks in detail.
Finally, my favorite topic J My wedding day look was inspired after flipping through countless wedding magazines/pinterest and going into boutiques searching, I realized that I wanted to a ball gown silhouette for my wedding gown. It's the only time a girl can feel like they are a real princess marrying their prince charming, so that's why I chose this style. When I realized there wasn't many options for ball gown style in the price range I budgeted for, I decided to out-source, all the way back to my hometown in China. Lonnie and I were going back to China for a holiday in December 2016 and I thought what a great opportunity for me to find a dress there! So I gathered a bunch of inspiration pictures that I had and I brought to a seamstress in China and she literally made my dream dress, well she made TWO of them!! J
I knew my ball gown would be a bit heavy and hot to wear it all day so I decided I wanted an evening gown as well. For the evening gown, I went for something more of an A-line silhouette. It was everything that I wanted, from the sparkling details of the top of the dress to the airy flowy champagne coloured bottom. I loved both dresses so much!
As for the groom, we went to EPH apparel in Calgary for a pop-up shop. I knew I wanted a steel blue coloured suits for that guys so that is what we went with. The style of the suits is very simple and sleek, I wanted the boys to looked polished but still able to dance all night long.
How did you meet? Tell us about the proposal.
Lonnie and I met in grade 7 at our Junior High School here in Calgary. I don't think he knew who I was until grade 9 but he was the popular guy in school and all the girls would talk about him. My best friend at the time actually had a crush on him! But I never thought he was anything too special until we became friends in Grade 9, and the rest is history! Lol! Fast forward 11 years later, we were on a summer holiday in San Francisco, he proposed to me when we were having a late lunch at a bistro. Even though I had suspicions but I definitely did not expect him to propose right then and there!!
Do you have any wedding planning or marriage advice that you'd like to share with other couples planning their day?
Marriage, ultimately, is the practice of becoming passionate friends.
~ Mary & Lonnie