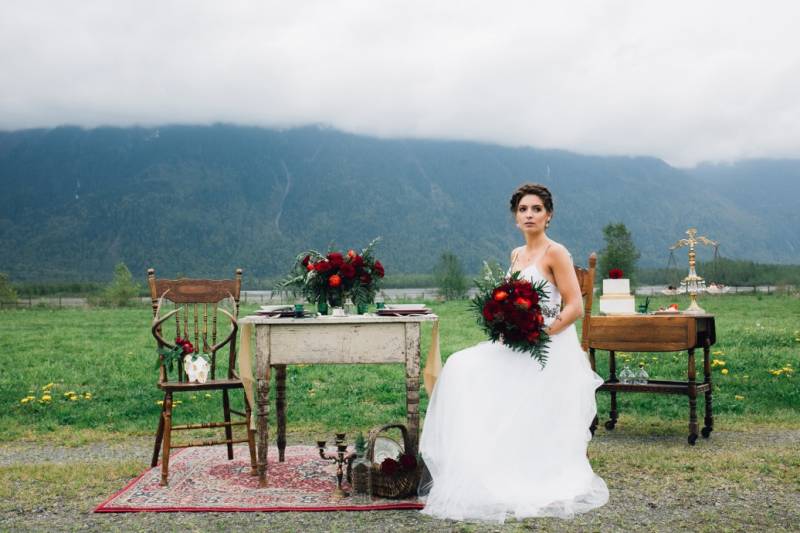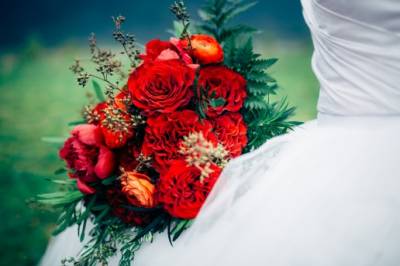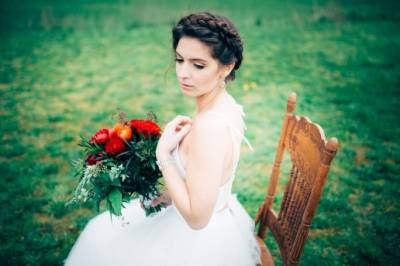 Inspiration Behind the Shoot
Vancouver Makeup and Hair artist Felicia Bromba and photographer Roxana Albusel collaborated to create a truly romantic bridal photo shoot inspired by the crisp mountain air, snow covered mountains and beautiful tranquil setting along the waters of the Fraser River. Together, alongside a group of talented local vendors, they created a feeling of bold bridal luxury with a touch of the outdoors. This enchanting set brings together a new twist on modern elegance and vintage flair, while taking advantage of the stunning scenery. Fraser River Lodge provided the perfect setting, with snow-capped mountains in the distance and rustic lodging nestled along a private waterfront. The roaming bison added more wild elegance to the dreamy setting. Vintagelizy, the talent behind set design and styling, brought together the alluring landscape with rich and warm hues and rustic features. Charmingly fusing together nature, bold textures and vintage gold accents, she tied everything together for a truly elegant feel.
The florals were created by the exceptionally gifted Floral Design by Lili. Reds and oranges accompanied by light greenery sat atop vintage gold accents and vases, bringing together an opulent, visual showcase. The mini two-tiered cake from Sweet Bites BC features flecks of gold sprinkled along the upper tier and a solid gold band to tie the two tiers together. The final touch that brought the vision together was the elegant makeup and hairstyling. Vancouver Mobile Makeup & Hair perfectly showcased the soft enchanted look with light champagne and gold tones and a soft, loose halo updo.