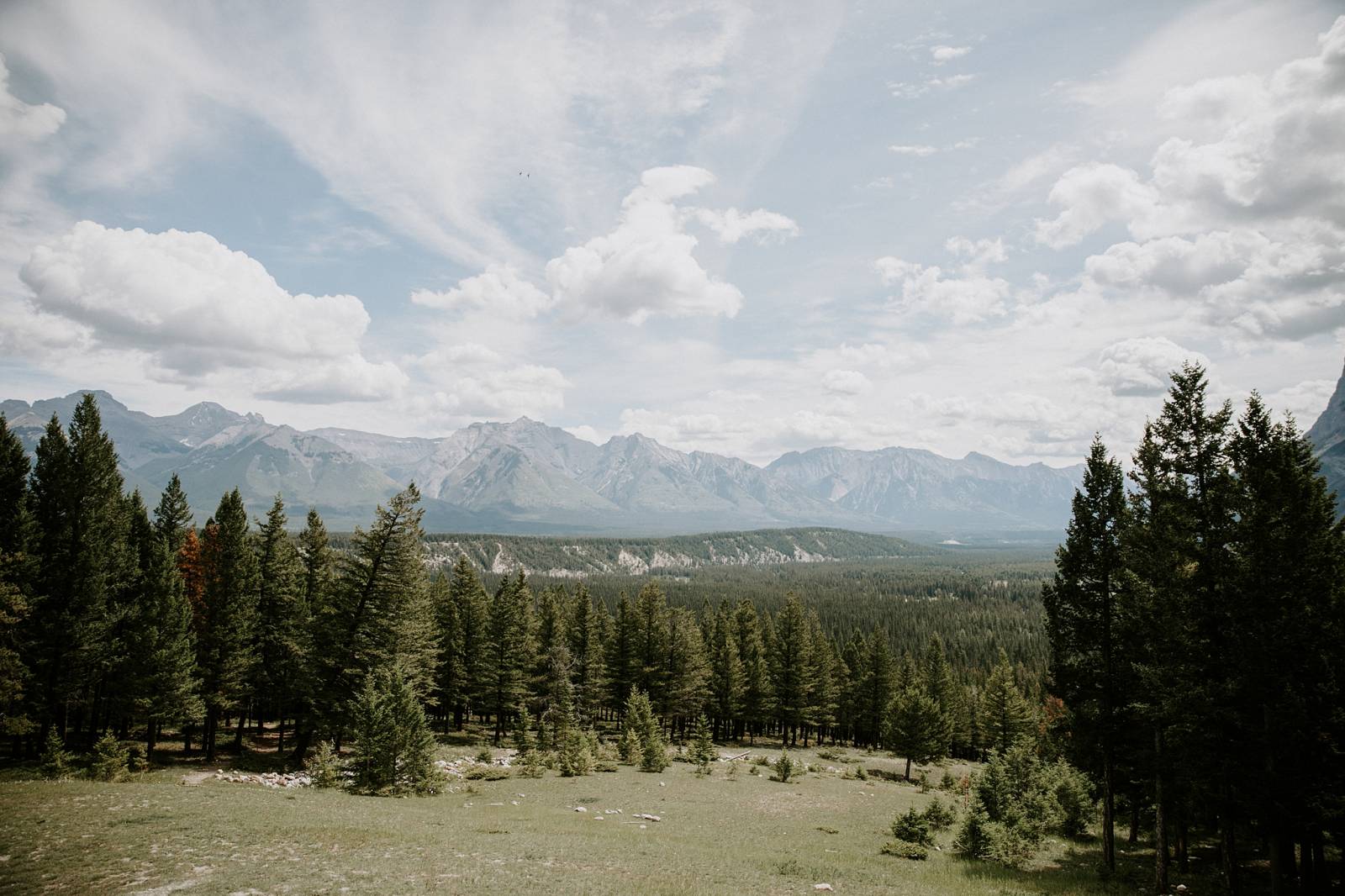 An Alberta I Do
Brenda and Darren's Fenlands Banff Wedding was so beautiful. Their friends and family were so welcoming and full of positive energy - you can tell that this couple is definitely surrounded by love.

We went to so many different places and Brenda & Darren were so flexible and go with the flow when the original plan didn't work. We were originally planning on going to Lake Minnewanka, but it was closed because it was too busy! Seriously, every time we go to Banff it feels like it's getting busier and busier. So we improvised and went to some other places around the area, and drove back around and it was open again! When you're planning a wedding in Banff you have to be ready to change your plans - not only can the weather change at any time, but traffic as well!

We absolutely loved the Fenlands venue, it has a beautiful rustic feel to it with big beautiful windows - and as a bonus a big outdoor grassy area for games.
- Alberta Wedding Photographers, Teller of Tales Photography
From The Couple
Top 3 Best Moments:
The rainbow at the reception, all our guests went crazy and the owners of OH Bento said they have never seen a rainbow on a wedding day like that in the 25 years at the Fenlands.
Not just saying this cause you guys did our photos, but Jennine and Rob made our day amazing. You both have such awesome personalities and made it so much easier for us. It wouldn't have been the same if we didn't have you both there.
The speeches had to be one of the best moments. All of them meant so much to us, especially Darren's Dad's speech. He was so nervous to do it. We are so lucky to have such special people in our lives.
Top 3 Favorite Wedding Details:
The cake I made was a happy moment. Luckily it made it in one piece and was a major hit with our guests. Haha, they're all food-related.
Our donuts were another hit with the guests. I wanted Italian donuts from Edmonton so badly but couldn't figure out how to get them to Banff. KJ Bakery in Canmore is where we got the donuts from and to my delight they tasted just like the Italian bakery donuts.
And the Ukrainian bread cake that my aunt Ava brought from smoky lake Alberta. It meant a lot to us to have a little bit of heritage at the wedding.
Also my bouquet for a none food related answer. Our florist was able to put Ivy in it. It's a tradition on my mom's side to have it in the bouquet and try and grow it after the wedding.
- The Bride and Groom, Brenda and Darren