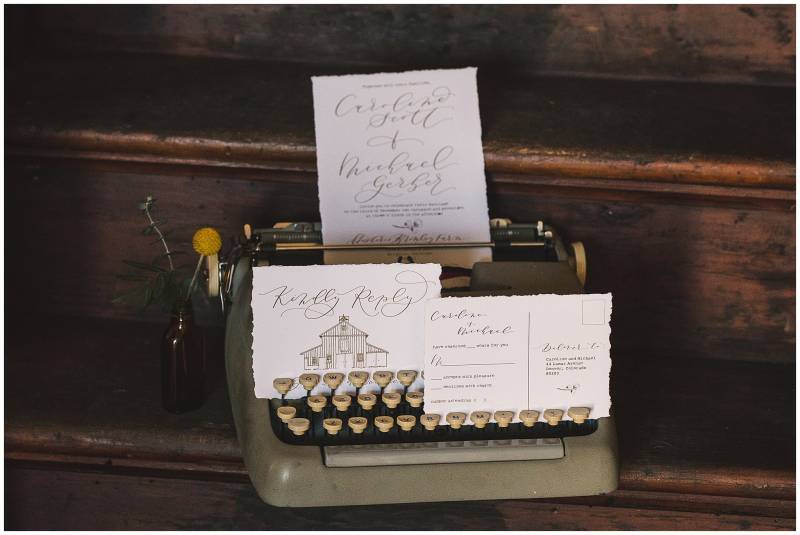 I was inspired by the wood floors and character of the Bromley house, which was built in 1883. They have fun silos, barns and photo backdrops in every corner of the property. Mustard is my favorite color in the whole world so I wanted to have it wherever I could...grooms tie, glassware, bouquet, napkins, plaid and flannel shirt. Then my brain just kind of took over from there :)
We wanted Caroline's lips to pop and Sara, the makeup artist, nailed the winter look with the dramatic lip and big, vintage waves. Mike and Caroline were married on November 10, 2017 and are still in that perfect newlywed phase so being with them all day was a dream. Brenda, our photographer, used every second of daylight to get all of our amazing shots. We were out in the cold until after the sun went down. The bride was bare-shouldered, standing in front of our market-lit barn and didn't even flinch. Brenda worked her tail off to keep our photos romantic and rustic and she pulled ideas out of nowhere keeping things so dang fun.
I asked the florist to keep her design wild and rustic with pops of mustard yellow. Rachel made the beautiful wreath which was the most perfect thing for our ceremony scene....it was so yummy and the perfect size to stand out on the big white barn. The bouquet was such a statement and had so much texture and color...it didn't matter which direction Caroline held it, it was stunning. Scott took our ceremony scene over the top with the addition of the market lights on the barn! It made for some pretty amazing after dark shots!
A lot of the props and things are from my own home...I really do love vintage anything, but what we didn't have we borrowed from Plank & Pearl...her collection of vintage makes my heart sing! And we got our perfect farm chairs from Charming Chairs...they added the perfect touch to our table!
We wanted just a HINT of Christmas which is where the fun wooden signs came in, I (dotting the i) loved the sugarplum quote for our dessert table and, of course, "Checking it twice" for the seating chart. Each of our wedding guests is a Christmas character and our place cards were fun Christmas ornaments with a personalized tag...quite a magical guest list. The hot toddy bar came about because of the fun texture in the ingredients. The whiskey barrels were at the venue and made for a perfect bar top...next to a fun squaty grain bin that says, "Butler"....too perfect. And of course we had to have bundt cake and a naked cake with the yummy texture of the cinnamon sugar donuts. Susan made it a spice cake which just fit in perfectly. We scored big time with the teepee being on site....we cleaned it up a bit and just added the market lights. Brenda then worked with the fun angles to get those super romantic shots. Lastly, the invitation by Kelly, I told her I wanted fun script mixed with a typewriter font and she knocked it out of the park. She added the little cotton watercolor graphic and with a touch of vintage stamps it's so dang perfect.
~ Judi, dotting the i